Cartagena is the jewel of Colombia's beaches and a MUST for all jet setters! The city has a magnificent UNESCO World Heritage old walled city and white sand beaches located around its majestic coastline. It is a feast for the eyes and tastebuds with amazing restaurants and incredible nightlife.  Given these facts, when is the best time to visit Cartagena?
Weather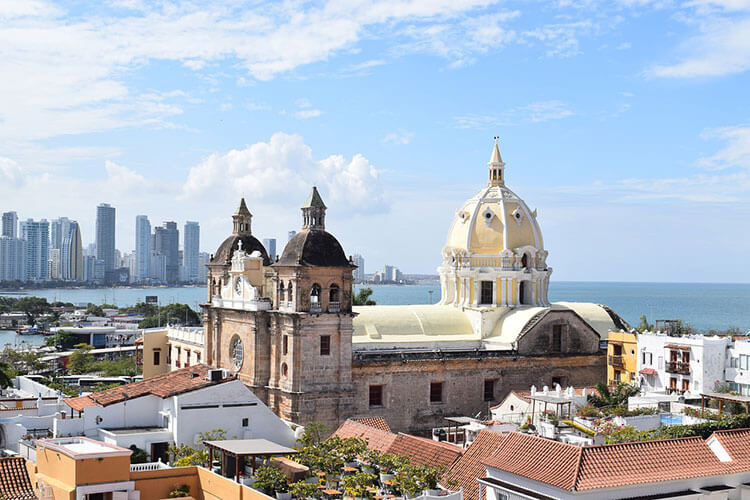 The best time to visit Cartagena is really all year round! Cartagena, located on the warm Colombian Caribbean coast is nearly always HOT with little variation in heat throughout the year making it an awesome vacation option!  The tropical temperatures year-round are quite stable between 82°F and 90°F with high humidity. The city does have "dry" and "wet" season, however, with December through April being the "dry" and the rest of the year having more precipitation.
Dry season (December to April): Dry season in Cartagena means sunny and colorful streets with daytime temperatures in the mid 80's Fahrenheit, while the nights drop into the 70's – ideal for many Americans and Canadians to escape the cold winters. There is hardly any rain at this time of the year although there can be a shower here and there and it can rain a bit in early December and in late April.
Wet season (May-November): May through December is considered the "wet" season, although often it really does not rain much more than an afternoon shower except for September and October when the Caribbean coast is wettest. November is also one of the "wet" months before the rains end in December.  Even during rainy season, however, the temperature in Cartagena hardly changes from the other months of the year. It is still very warm so visitors should still dress for hot weather. Just be sure to pack a light poncho or small umbrella.
Travel Seasons
High Season in Cartagena is between mid-December until mid-January & Easter Week (Semana Santa). During this time expect hotel pricing to be the most expensive throughout the year & for the city to have larger crowds. Flights around the holidays are the most expensive throughout the year. It is a great time to go because you will meet a lot of locals from all over Colombia and there are more special events and parties during this time. Booking early is highly recommended!
One thing to keep in mind is that for locals, Cartagena is one of the top destinations in the country. So if there is a holiday, the city will be more packed. Keep in mind that some holidays are moved to the following Monday to make a three-day long weekend, referred to as the puente (bridge).
The holidays celebrated in Colombia are the following: New Year's Day – January 1;(Epiphany) – January 6; St Joseph – March 19; Thursday, Friday & Monday after Easter; Labor Day – May 1; Ascension – May; Corpus Christi – May/June; Sacred Heart – June; St Peter & St Paul – June 29; Independence Day – July 20; Battle of Boyaca – Aug 07; Assumption – Aug 15; Discovery of America – Oct. 12; Independence of Cartagea – Nov. 11; Immaculate Conception – Dec. 08; Christmas Day – Dec. 25.
As mentioned above, all year is great to travel to Cartagena, even shoulder season. Just keep in mind that if you are interested in nightlife, plan your trip to be in Cartagena through the weekend (Thurs, Friday, Saturday).
Events in Cartagena:
Below are some popular events in Cartagena throughout the year.
Cartagena International Film Festival (March)
Semana Santa (Holy Week) (Falls in March or April and varies yearly)
Cartagena Independence Day (November 11). A big event tied to independence day is the Miss Colombia Beauty Pageant.
If you have any questions about Cartagena or would like to plan a tailor-made trip to this incredible city, contact us and we will be happy to help!