Without a doubt the best time to visit Dubai is from November to March (winter season) when you can experience the best of Dubai, the desert, outdoor activities, exciting events, and live entertainment.
Weather-wise, Dubai only has two seasons: hot and hotter.
During the winter months, the city displays blue skies and beach weather, however, this is also peak tourist season so expect crowds.
If you want to escape the crowds and less expensive accommodations, you can visit Dubai during summer months but be prepared for hot temps and high humidity.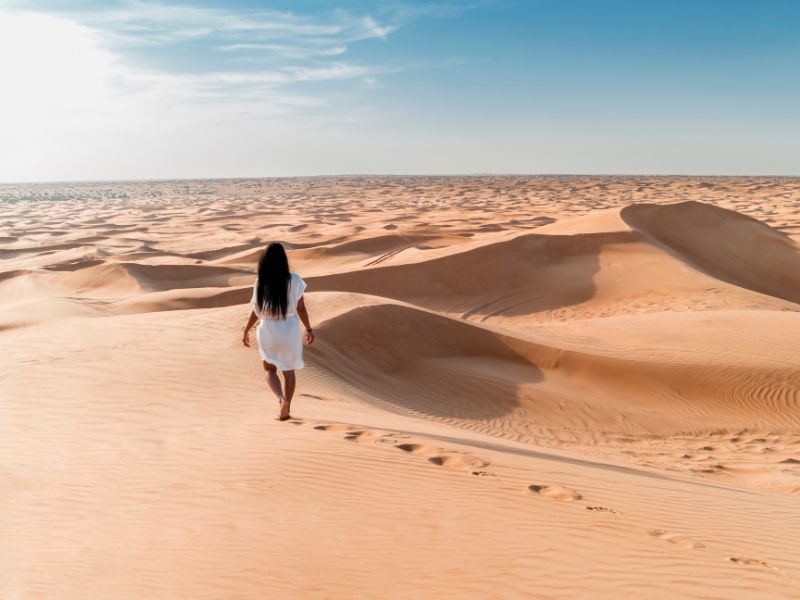 High Season in Dubai starts from November and goes on till April. The period is marked by cool temperatures and bright winter sun. In this season Dubai hosts concerts, live events, shopping festivals and exciting tours such as desert safaris. This is a peak season so prices of accommodations and airfares at the highest. Please note that January to March is Dubai's rainy season. You can expect a few drops here and there, but showers are very short. During this season, the air temperature during the season of winter fluctuates between 62°F and 86°F.
Low Season in Dubai is in the summer. Summer in Dubai starts in May and ends in August. It is the best time to visit Dubai for low-budget travelers who expect discounted airfares and hotels. It does not diminish much of the travel experience as most of Dubai's attractions are indoors and air-conditioned. However, you won't be able to enjoy the sea or outdoor activities. The air temperature during the season of summer fluctuates between 91°F and 108°F.
Shoulder Season in Dubai is on April-May, September-October. The temperatures start to dip in September and October. It is the school season around the world, so fewer international tourists come in ensuring cheaper rates for almost everything. April, September and October are ideal for those who want a laid back holiday without the crowds. But thanks to its ingenious architecture and building technology to keep cool, there is always something to do in Dubai all year long! The air temperature during these transition months fluctuates between 76°F – 100°F (April-May) and 79°F – 100°F (September-October).
Whenever you are ready to travel to Dubai, let us know and check out our Dubai Travel Package for more information on what we offer!
Key Events
Al Marmoom Heritage Festival (March – April) – Explore handicrafts, local cuisine, wedding set-ups and live music to get a first-hand glimpse of Emirati lifestyle. The main event is the camel racing.
Ramadan (April – May; changes every year) – Many malls, theme parks, major landmarks and attractions are comparatively empty during the day. You can easily skip the busy crowds that characterise the vibrant city, making Ramadan one of the best times to visit Dubai.
Dubai Summer Surprises (July – September) – Shopping event packed with amazing deals and promotions from the city's most-loved retailers.
Dubai International Film Festival (December) – One of the biggest film festivals in Dubai and the Middle East as well.
Dubai Shopping Festival (January – February) – The festival includes unbelievable discounts in every store in every mall. No matter how high-end the brand is, DSF provides an opportunity for anyone and everyone to go out and shop.
*Keep in mind that these events may change in time. We recommend asking your sales rep or checking online before booking any travel.