Greece is on of the world's most visited countries for a reason!  This jewel of the Mediterranean offers pristine beaches, picture perfect sunsets, delicious food, ancient architecture, and epic nightlife! Travelers have basked in the sun and indulged in all what Greece has to offer for decades. So, when is the best time to visit Greece? The answer depends on what you are looking to do on your vacation but generally most people prefer to travel from April to October.
Best Time to Visit Greece Based on Weather
The weather in Greece is generally optimal in May, June and in September. During the day, it is nice and warm 70's and 80's – ideal for exploring Athens and sunbathing on the Greek Islands.  At night, it drops into the 60's so a light jacket or sweatshirt would be handy to have.
Summers both in Athens and on the islands in July and August can be extremely hot and somewhat humid (90's Fahrenheit during the day).
April and October are both very mild months ideal for those who love sightseeing and mild on the islands with temperatures in the 70's – not ideal for scorching hot sunbathing but warm enough to explore the islands and take an  dip in the ocean or pool on warmer days.
The winter months of November through March can be quite cold – especially in Athens so these months would NOT be ideal to visit the Greek Islands as SOME hotels and restaurants will be closed for this time of the year. Athens, however, is always open and for those who enjoy culture and restaurants, Athens can be visited year-round if you do not mind colder weather.
Best Time to Travel Based on Travel Seasons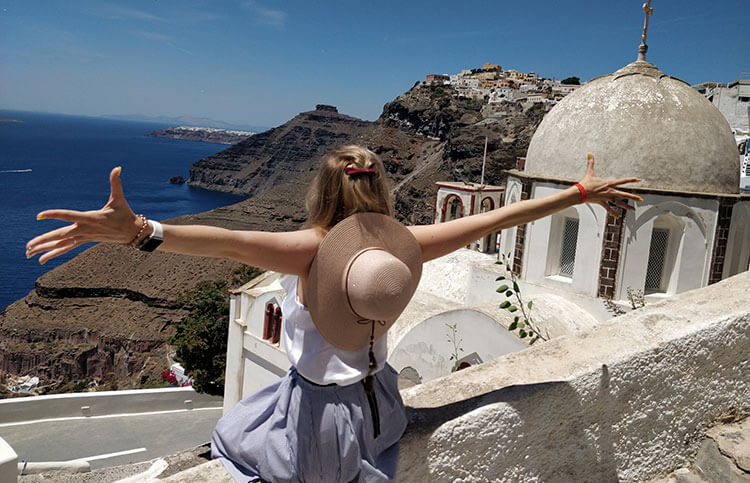 High Season (mid-June through mid-September)
The high season in Greece corresponds to the summer months, a time where you are likely to experience high heat (100°F or more), the highest prices, and the biggest crowds. July and August are the peak summer months and as such it gets very crowded, especially in popular destinations like Mykonos and Santorini.
The best nightlife and best parties are held during this time and Mykonos in particular is very popular with Jetsetters and a celebrity hotspot!  August is the "peak" of the peak season with the biggest crowds, while June and September have lighter crowds. If you are wanting to travel during these months, it is ESSENTIAL to book as early as possible!
Shoulder Season (April through mid-June & mid-September through mid-October)
The shoulder seasons of late spring and early fall are a great time to visit if you want to avoid the extreme crowds of the busy summer months, while enjoying great prices and good weather. Most places will be open, and ferry services and flights are still readily available.
From April to mid-June, the heat of summer has not yet arrived, and cruise ships have not arrived with their large crowds. From mid-September through October, it is usually still warm enough for the beach but much less crowded.
Low Season (November through March)
Low seasons corresponds to late fall and winter. During these months, it can get quite cold in Athens (45 to 65 Fahrenheit) and many of the island hotels and restaurants are closed for the season.
This period is understandably the least expensive season in Greece with also fewer tourists. Visiting Greece during these months would be good for an Athens city break focusing on exploring the city and its history or possible a brief escape to one of the islands that will be quite isolated and peaceful.
Annual Festivals
The Greek calendar is abundant with festivals and events throughout the year. Below are a handful of important ones to consider.
Orthodox Easter (March – April): Easter is the biggest event on the Greek event calendar (the dates change from year to year as it goes according to the Greek calendar). It is celebrated throughout the country with many local cultural events throughout the country such as candlelit street processions, lamb dishes and midnight fireworks.
Athens Epidaurus Festival (June – August): The summer months (July to August) welcome the beautiful sounds of opera, classical music and open-air plays as they fill the balmy summer months in various amazing locations.
Summer Music Festivals: There are a handful of popular summer festivals each year on the islands, but many have been postponed or canceled for Covid-19 for 2021.
Athens Photo Festival (June – July)
Thessaloniki International Film Festival (November)
If you would like a custom-tailored trip to Greece, TGW can certainly make it happen for you! Check out our Greek Islands Travel Package.