A lot of people do not know this, but you can actually participate in the Rio de Janeiro Samba Parade!! To participate in the parade you must purchase  Rio Carnival costumes. The Rio Carnival Samba Schools have a limited number of space for tourists wanting to parade with them. They are all different depending on the theme that the Samba School will be doing that year and vary greatly as far as design and cost from about $250USD up to $1,000USD or more. Costumes tend to be expensive as they are intricately hand made and yours to keep! Parading in the Carnival in costume  is definitely one of the most exciting ways to experience the Rio de Janeiro Carnival Parade and a very unique and amazing experience to check off your "bucket list!"
How it works:
The first thing you need to do is choose one of the available Brazil Rio Carnival 2024 Costumes. It's always best to make your choice at least 2 to 3 months before Carnival because some Samba Schools need to know the exact size of your Rio Samba Parade Costume. Check out samples of Brazil Carnival Costume options. Can't travel to Rio for the next carnival? Check out Rio Carnival Dates for other years.
Does Purchasing a Rio Carnival costume include parade admission?
No! It is important to note that parading in the Carnival and WATCHING the Carnival are completely separate and you must, unfortunately, purchase tickets to watch the actual parade even if you purchase a costume. Some people decide to parade on one day of the Carnival and watch the parade on another.
I Chose My Rio Carnival Costume, Now What?
Once you make the selection of your costume, we will provide you with a list of questions for your costume size. You do not have to do anything else – no need to attend any rehearsals, no need to know how to samba, no need to arrive early in Rio.
What do I need to do once I'm in Rio for Carnival?
Once you get to Rio de Janeiro, we will deliver the Brazil Carnival Costumes to your hotel (delivery fee may be applicable). You will need to show up to the parade at least 2 hours before your Samba School with the Brazil Carnival Costumes on and in good condition. There are no changing rooms or lockers there.  Below is the order and timing of the Rio Carnival 2024 samba school parades. The exact times will be decided in late June of 2023.
| | | |
| --- | --- | --- |
| Parade starts | Sunday, Feb 11, 2024 | Monday, Feb 12, 2024 |
| 22:00 | Porto da Pedra | Mocidade |
| 23:00 – 23:10 | Beija-Flor | Portela |
| 00:00 – 00:20 | Salgueiro | Vila Isabel |
| 01:00 – 01:30 | Grande Rio | Mangueira |
| 02:00 – 02:40 | Unidos da Tijuca | Paraiso do Tuiuti |
| 03:00 – 03:50 | Imperatriz Leopoldinense | Unidos do Viradouro |
| | | |
Once I get to the Sambodromo, what do I need to do?
All samba schools meet in Avenida Presidente Vargas, which is right next to the Sambodromo at the beginning of the samba runway, near sector 1-2. You have to know the right meeting point of your school (whether it is the Sambodromo side of the odd or even-numbered sectors).
You will only have to find your wing. It will be straightforward, around 100 other people wearing the same costume as you.
You will soon form single lines that have to be kept during the parade. Follow your presidents' and coordinators' instructions. At this moment, you should try to stay next to your friends, if you wish to parade together.
After the school's paraders come together, the school and the wings get prepared, undertake their finishing touches, and soon the gates close behind: Ready for the big moment of entering the Avenue.
Your president will make sure that you wear your costume right and you will quickly learn the little steps and pace how the paraders march down the samba runway.
You can have your friends around for some of the preparation time. They can take pictures and have fun with you and could later take and keep all your unnecessary belongings. They will only have to leave at a later stage, when you pass through the gates, after which no more way in or out.
Keep in mind that once your samba school finishes, you will not be able to go into the grandstands. If you do want to check out the parade, we recommend purchasing a ticket for the other day. The Carnival Parade is either on Sunday or Monday. If your school scores among the top six, you will be able to parade once again in the Champions' Parade the Saturday following Carnival.

Sample Rio de Janeiro Carnival Costumes
We will be received pricing for Rio de Janeiro Carnival costumes during the second half of 2023. In past years, pricing was released toward the last quarter of the year. 
The images below are SAMPLE options based on previous years so you can get an idea.
Sample Options for February 11, 2024 – Sunday
Option 1:
PRICE: US$459/PERSON (ALREADY INCLUDES DELIVERY FEE)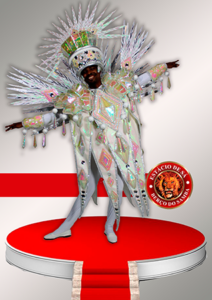 Option 2:
PRICE: US$1,099/PERSON (ALREADY INCLUDES DELIVERY FEE)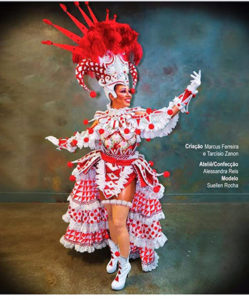 PRICE: US$1,249/PERSON (ALREADY INCLUDES DELIVERY FEE)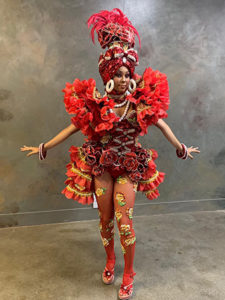 Option 3:
 PRICE for BOTH OPTIONS BELOW: US$549/PERSON (ALREADY INCLUDES DELIVERY FEE)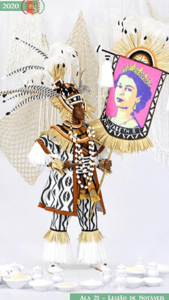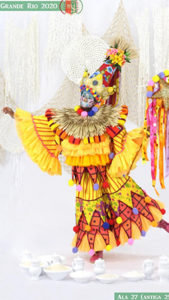 Sample Options for February 12, 2024 – Monday
Option 1:
PRICE: US$699/PERSON (ALREADY INCLUDES DELIVERY FEE)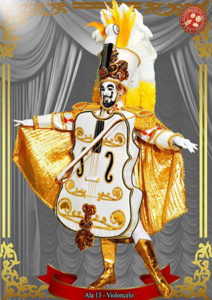 Option 2:
PRICE: US$459/PERSON (ALREADY INCLUDES DELIVERY FEE)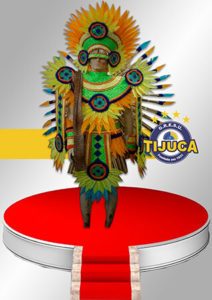 Option 3:
 PRICE: US$629/PERSON (ALREADY INCLUDES DELIVERY FEE)