Halloween is one of the world's oldest holidays, but it is predominantly celebrated in the United States and Canada. It isn't a huge holiday in South America. You may find some Halloween parties on that weekend or night, but the kids aren't out to trick or treat nor it is a huge holiday where you have to stand in line for hours at a Party City!
In the spirit of Halloween, we have found some Haunted South America Destinations that we offer. Maybe on your next trip with us, you can check these places out!
Haunted South America: Bride of Dracula in Peru!
In the town of Pisco, Peru (about a 3.5-hour drive from Lima) lies the remains of Sarah Ellen Roberts. She was an English woman buried there in the early 1900s. She had been seen biting the neck of a child and sucking its blood. Her husband also witnessed her pouring blood over ice cream and eating it!!! As you can imagine, this caused uproar and she was executed as a witch, murderer, and vampire in 1913.
The church of England refused her a proper burial ground so her merchant husband, John Roberts, scoured the globe to find a proper burial and the only town that accepted was Pisco, Peru.
She supposedly vowed to get revenge 80 years after her death and in 1993, it caused a crazy uproar in Pisco. Nothing happened but rumors and superstitions arose again in 2007 after a big earthquake that killed hundreds. At the cemetery, a large number of coffins were destroyed except for Sarah's.
To this day, inhabitants of Pisco say they have seen a ghostly woman roaming through its streets.
To learn more about this story, click here.
Haunted South America: Ghosts of Recoleta Cemetery in Buenos Aires
Although there are a lot of famous figures buried in Recoleta with the most famous being Evita Peron, there are two stories that haunt this world-famous cemetery.
David Alleno was an Italian immigrate who dreamed of being buried in the prestigious cemetery he guarded at night. He saved enough money to buy a space and built his own tomb. He even traveled back to his home country to find an artist who could carve his figure in marble. Legend says after the tomb was finished David took his own life inside his grave, but many reputable sources say he died years after the tomb was constructed. Today there are rumors that he haunts the cemetery at night, and you can hear his keys clinging as he walks the narrow streets. David Alleno's grave is located in the far east part of the cemetery, number 81 on the map you can purchase at the entrance.
Another horrifying story is of Rufina Cambaceres, who was buried alive when she was only 19 years old. She is said to of suffered a cataleptic attack and was buried in 1902. Rufina woke up and began screaming and clawing at her coffin. Security guards heard the screams, but by the time they were able to open the coffin, she had died of a heart attack. It is said there were scratches on her coffin and face. Her mother was filled with guilt. She built a new coffin made of Carrara marble. It is carved with a rose on top and a girl turned to the side as if watching Rufina. The marble sits behind a glass pane, so if she wakes up she can be rescued. Rufina's grave is near Evita's, about three blocks south, number 95 on the map.
If you go to Buenos Aires with us, we include the Recoleta Cemetary as part of the city tour included in your package.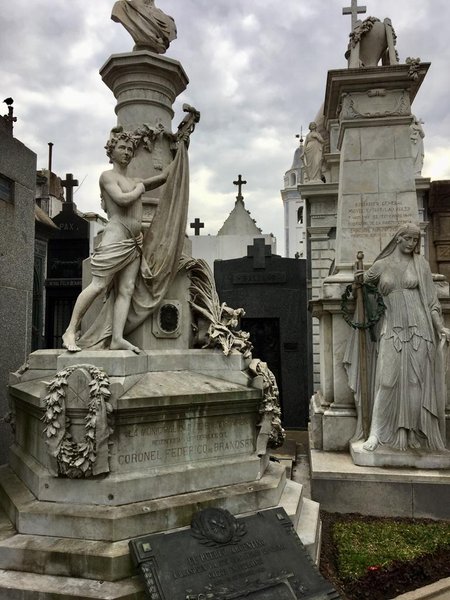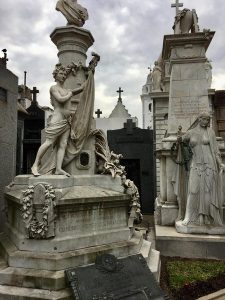 Haunted South America: The Legend of the Amazonian Dolphin
Ladies you have been warned!!! Legend has it that during the day the Amazon River Dolphin, known as the "Boto", goes about its business as a normal dolphin, but once the sun goes down, they shape-shift into handsome young men dressed in all white. They come ashore, strictly to seduce the wives and young girls of local villages and impregnate them. Before the sun comes up, these shape-shifting encantados turn back into dolphins.
Legend or not, the Pink Dolphin is a beautiful creature and it can only be found in the Amazon Region. If you have never been to the Amazon, we highly recommend going! We offer packages that include Amazon River Cruises as well as Amazon Lodges. Check out our Amazon Adventure Package.
\