Colombia is now on the radar for many jet setters! It is a land of pristine Caribbean beaches, rainforests, exciting nightlife, delicious food, and welcoming locals. For many years, the country was off the map for tourists or unsafe to travel to due to high crime rates and drug related violence. A lot has changed in the past 20 years! Is it safe to travel to Colombia? The short answer is YES!
Colombia is generally safe to visit if you follow some basic safety tips and use common sense. If you are not looking for trouble and follow these tips you should likely not experience any problems.  This is not to say that you should be carefree. It is still a middle-income developing country and you do need to be careful. Most incidents that tourists report when visiting the country are petty pick pocketing and crimes of opportunity.
Is It Safe to Travel to Colombia Tips: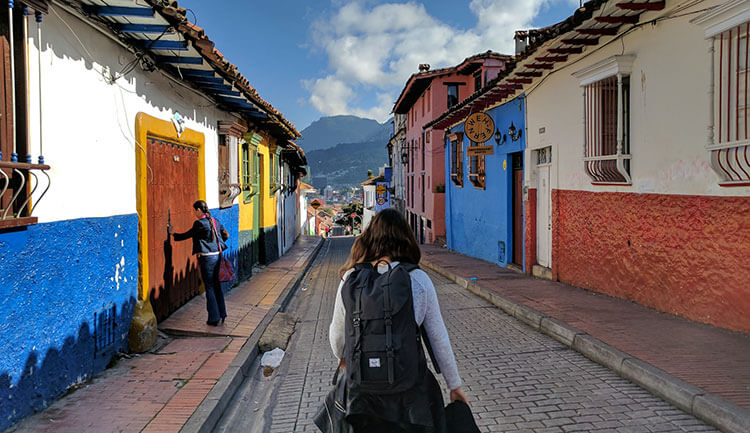 No dar Papaya!: No dar Papaya is a Colombian Expression meaning to not let your guard down and to NOT give any opportunity to let someone take advantage of you by being distracted OR by flashing money or jewelry. This is perhaps THE most critical of all tips Colombians follow! If you keep your guard up and are aware of your surroundings and keep a low profile with your belongings, you should be okay!
Choose the safest neighborhoods to stay in: It goes without saying but it is always a good idea to stay in parts of the city that are used to having tourists stay. It is not recommended to try to venture TOO FAR off the grid and stay in questionable areas or in any undeveloped or lower income areas. In Cartagena, we recommend staying in Bocagrande or the Walled City. In Medellin, stay in El Poblado. In Bogota, Zona Norte (Parque 93, Zona T, Chico) is recommended.
Do not do drugs and illegal activities: Drugs are illegal in Colombia – all drugs. Avoid doing them or any illegal activity. Chances are if you are looking for trouble you will FIND IT!
Be Careful with your Cell Phone: We all have smart phones these days and it is common to travel with them to take pictures and stay in touch with family and friends. Cell phones are EXTREMELY expensive in Colombia (much more expensive and in some cases DOUBLE the cost than the USA). For this reason, they are THE #1 thing that petty criminals and pick pocketers are looking for so always keep an eye on your cell phones, do NOT leave them laying around tables, the beach or dangling from your pockets.
Do not take valuables to Colombia: Jewelry, credit cards you do not plan on using and excessive cash are NOT to be taken on your trip. Why set yourself up for problems in the first place. Keep the "bling bling" at home! The bottom line is if you would be upset if you lost it, do not take it on the trip to begin with!
Don't carry your passport with you: Carry a copy of your passport with another ID like a driver's license. Only bring cards which you plan to use. Leave your passport and other cards locked up in a safe location. It is also a great idea to keep a digital copy of your credit cards and passports in a digital email address or service such as Drobox in case of needing a backup.
Don't walk alone at night: It is generally NOT safe to wander around unknown streets at night anywhere in the world and Colombia is no exception. Stick to going out at night with friends or in groups and take UBERS or taxis that were called by your hotel. Avoid dark alleys and any isolated places.
Use ATMs in malls and grocery stores: Avoid ATMs on the street or in areas with few people around. Take out money during daylight hours.
Never leave your drink unattended: This is especially important at bars and clubs.
Learn some basic Spanish: Although English is pretty widely spoken in some cities, knowing Spanish is useful especially in emergency situations.
Buy travel insurance: If something goes wrong, you want to be sure you're covered. Travel insurance can help you find medical treatment and give you money to buy replacements for what was stolen. Better be safe than sorry! Click HERE to purchase.
Stick to Ride Share Apps: When possible, AVOID taxis unless they were called form the hotel reception. Avoid public transit as it can be crowded and getting lost and ending up in the wrong place can be easy. Uber is widely used in Colombia and safe and efficient. Always check the license plate of the arriving Uber to make sure you are getting into the correct car and always carry a copy of your hotel address (such as a business card of the hotel from the front desk) to make sure you enter the correct address and hotel!
Traveling to Colombia is Totally Safe! By following our Safety Tips and using common sense, you will have an amazing time in this beautiful country. Check out all of our Colombia Travel Packages and keep in mind that we can also offer any destination in Colombia that is not on our site.