One of the cool concepts that started a couple of years ago was the Rio Carnival Party/Lounge Theme at the Rio Samba Parade. They are similar to Camarotes, which have been around for a while, in that they provide a more exclusive way of seeing the Rio Carnival, but provide party-goers different environments where they can party as well as check out the parade. A Rio Carnival VIP Box is kind of like a suite at a sporting event where the main focus is to be in an upscale, comfortable place to check out the main event.
The Rio Carnival Party Lounges are clubs within the Sambodromo similar to the Camarotes in Salvador, Bahia so they are more exciting than the Camarotes or any other place because you not only get to check out the Rio Carnival Samba Parade but also party and meet people at the same time. TGW will be offering the Folia Tropical 2024 Rio Carnival Party Lounge.
Access to Folia Tropical 2024  event starts at around US$599 per person for the best nights of Carnival (Sunday or Monday) and includes round-trip shuttle transfers from a meeting point in the south zone as well as ALL-INCLUSIVE DRINKS & FOOD. This is by far the best Rio Carnival party to purchase for the Rio de Janeiro Samba Parade. It will feature an upscale crowd as well as local celebrities. Pricing is NOT YET available as of July of 2023 for carnival 2024 and pricing may vary once available.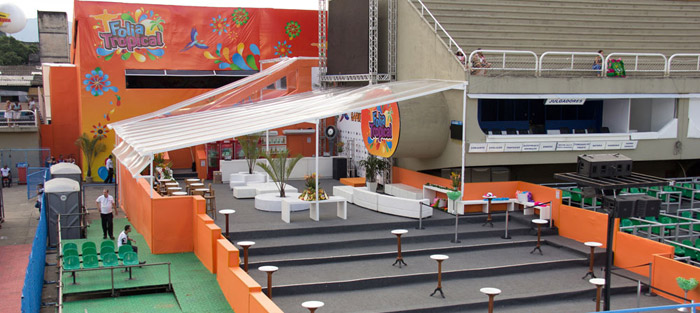 About the Rio Carnival VIP Box – Folia Tropical 2024
With an area over 16.000 sq feet, it offers the Lounge space that goes all the way to the avenue, leaving the guests with a sensation of being part of the parade and as well as a DJ area, where party-goers can party all night long.  On the top floor, there is the ZEN place, where the guest can renew their energy with a massage or lay down and relax without missing the parade on the big screen as well as the BISTRO and buffet area. At the Beauty corner, where everybody can enjoy professional hair salon and make up services and doll for the night.
Video: Check It Out for Yourself!