Like any large city in the world, you have to use common sense and familiarize yourself with your surroundings. Rio de Janeiro is one of the most beautiful and exotic cities in the world, but like any other city in Latin America, you have to be careful.
We have put together a written Rio de Janeiro Guide with the top 10 things you should follow to have an awesome time! We provide travel guides for most of our destinations that are EXCLUSIVE to the clients that book with us, but now some are available to the public. Obviously, the #1 way to guarantee a great time in Rio is to book with our company. We have a sister office in Rio de Janeiro with TGW Staff to make sure our clients get the most out of their experience and have been providing Rio as one of our main destinations since 2004.
These are some recommendations you will find in our 10 Commandments Rio de Janeiro Guide.
Click Here to Get Your Guide to Rio de Janeiro!
1. USE COMMON SENSE!! – This may sound like a no brainer, but please USE COMMON SENSE!! Do not try to do things you would never do at home in Rio. While partying KNOW YOUR LIMITS and using the buddy system. If you have a bad feeling about something it probably is a good idea to avoid that situation or get out of it!! – use common sense and judgment!!
2. STAY WITHIN THE SOUTH PART OF THE CITY: (Leme, Copacabana, Ipanema, Leblon) – During the day, it is best that you stay within the south zone (look at map). All of the great beaches are located there as well as plenty of restaurants and places to shop. Barra de Tijuca is also a safe place in the West Zone, but it is a bit further from where you will be staying. Anywhere around the mountains or hills ("FAVELAS") should be avoided. Favelas can be dangerous and should not be taken lightly.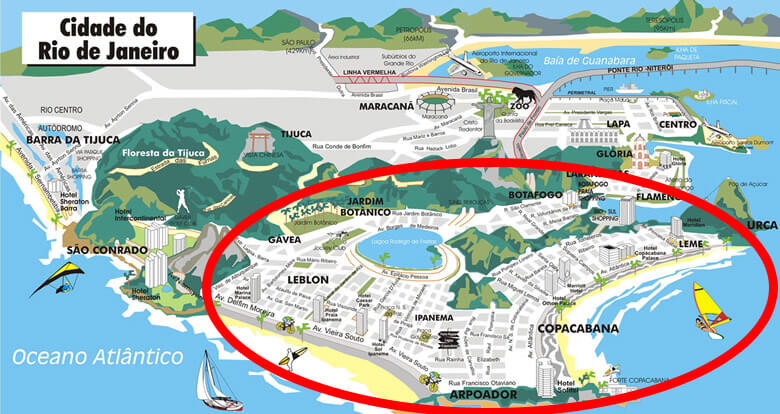 Get your 10 Commandments Rio de Janeiro Guide
Fill in the info below and we will email you the guide instantly.