Rio de Janeiro is an incredible city. The must-see tourist attractions are Christ Statue & Sugarloaf Mountain. We always include the Christ Statue tour in all of our Rio Travel Packages and highly recommend adding Sugarloaf as an add-on. So what else is there to do in Rio besides Sugarloaf & Corcovado??? We put together a very cool list of some of the top things to do in Rio de Janeiro besides booking other Rio de Janeiro Tours.
Top Things To Do in Rio de Janeiro
ARPOADOR – Located in between both Ipanema and Copacabana, this little beach is famous for surfing, and its huge rock formations that allow visitors to have a great view of summer sunsets on the ocean.  Cost: Free.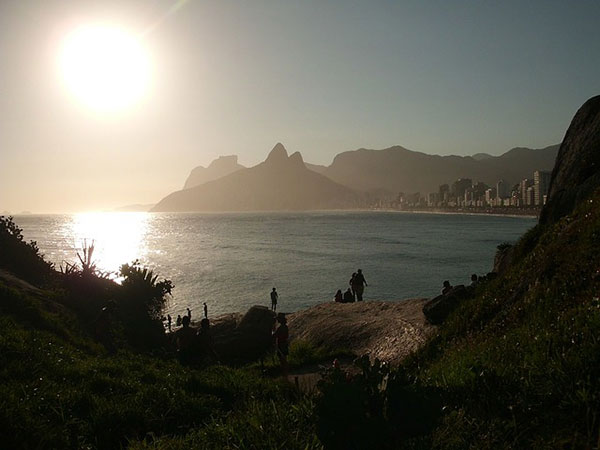 SANTA TERESA TROLLEY (BONDINHO DE SANTA TERESA) – One of the first trolleys to run in Rio de Janeiro, it takes you to Santa Teresa. You will ride over the famous Lapa Arches and get a different view of the city. The station is located on Lélio Gama street and is only open until 4 pm. It is a good idea to get there early as there are long lines. Cost: R$20 return.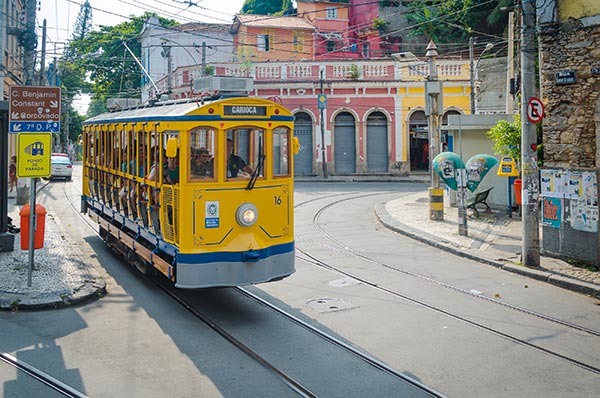 CANDELÁRIA – Built-in 1775 the church was only finished in 1877. Today, it is one of Brazil's biggest churches. It´s interior combines a mixture of both Neoclassical and Renaissance Revival Architecture while it´s façade is Baroque. This is because the Candelária´s interior was redesigned in 1878. Cost: Free.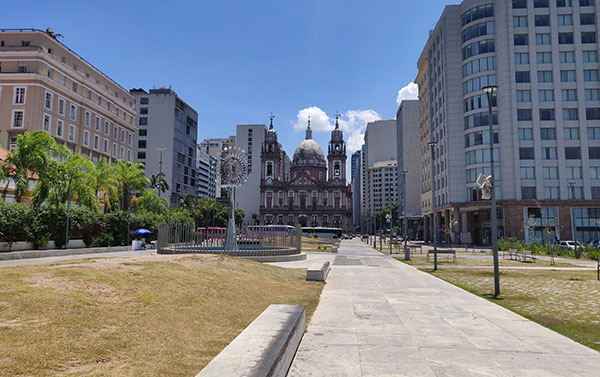 CCBB – Close to the Candelária is a little museum that always has great exhibitions. From Van Gogh's paintings to local artists in Rio de Janeiro, there is always something interesting to see. Open Wednesday – Monday from 9 am- 9 pm.  Cost: Free.
BRAZILIAN MUSIC PLAYED LIVE IN THE SQUARE (CHORINHO NA PRAÇA) – Every Saturday there is a band that plays Brazilian music in the marketplace on Rua General Glicério, Laranjeiras, starting around noon. While music is being played vendors are selling typical Brazilian foods. (This is a great time to try different croquets, empanadas, and tapioca.) Full of people sitting, talking, drinking cold beers, and listening to characteristic Brazilian music, the fair is always a colorful place to go. There is also one on Sundays starting at 11 am in Praça São Salvador. On Sundays, vendors sell beautiful and unique handcrafted pieces.  Cost: Free admission.
CONFECTIONERY (CONFEITARIA) COLOMBO (DOWNTOWN)  – Built-in 1894 by Portuguese immigrants, it allows visitors to feel what the Bell Epoch in Rio must have been like. With large mirrors the interior is stunning. This is a nice place to get a coffee or tea. Cost: cha (tea) is between R$17 per person to R$40).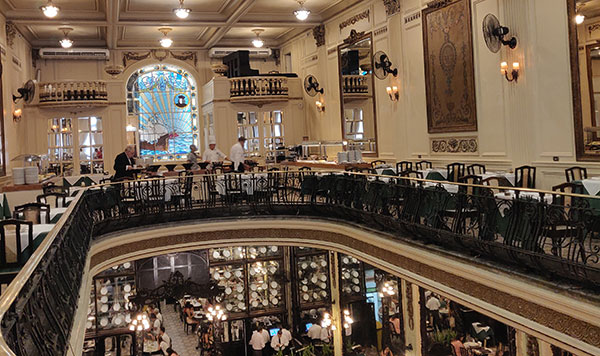 MUSEO DE AMANHA (Museum of Tomorrow) – The Museum of Tomorrow is a different kind of science Museum. New in town, this museum attracts many tourists and locals. The Museum of Tomorrow is open from Tuesdays to Sundays, from 10 a.m. to 6 p.m.; the ticket office closes at 5 p.m. Cost: R$ 20.00; Children up to 5 years old or senior citizens in their 60s or over is FREE.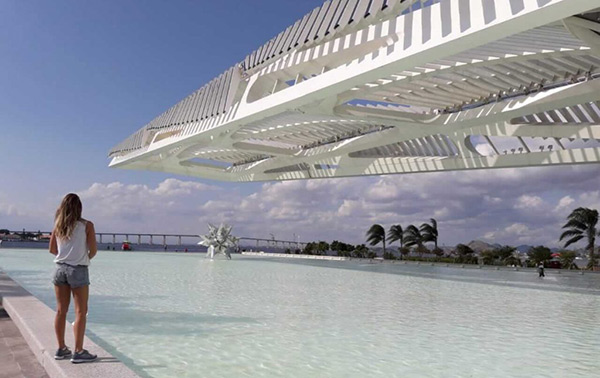 SELARON'S STAIRS (ESCADARIA SELARON) – The work of a Chilean Artist, Jorge Selarón, the stairs started off as a past-time, and soon became his obsession. Selarón ended up selling his paintings so that he could pay for the materials needed to create the stairs. Recognized all over the world these stairs have become one of the main attractions in Rio! Cost: Free.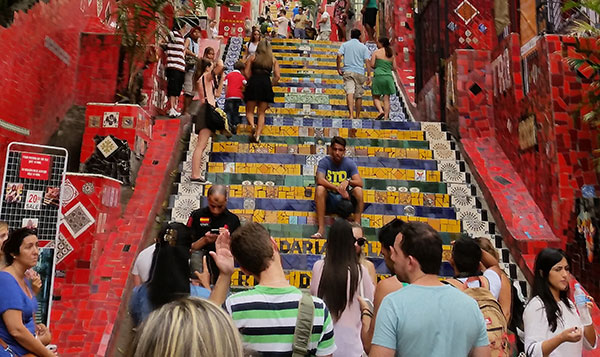 HIPPIE FAIR ON SUNDAYS IN PRAÇA GENERAL OSÓRIO – Throughout the years, the Ipanema Hippie Fair has shown off the works of some of the city's best artisans. Held every Sunday, rain or shine, from 9 am – 5 pm, since 1968, the Ipanema Hippie fair has covered vendor's stalls set up all around the entire square.  In the center of the park, painters show off and sell their latest paintings. Some vendors accept credit cards, but cash (Brazilian Reais) is usually widely accepted. Take smaller bills with you, as change for the larger bill is hard to come by. Cost: Free Admission.
COPACABANA FORT – Located at the end of Copacabana beach and was built that the beginning of the 1900s.  It is a small museum with displays of arms and weapons from the turn of the last century to now.  At the end of the fort, there are some stairs to climb leading you to a huge artillery bank. You will also have an amazing view of the surrounding ocean and close by islands. Cost: R$6 for adults/ R$3 for Seniors (above 60) / Children under 10 are free.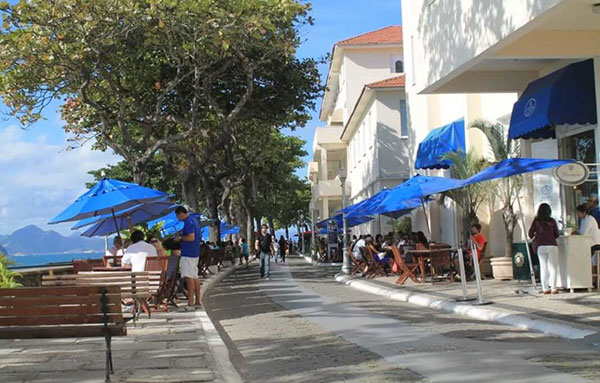 FORMER PRESIDENTIAL RESIDENCE OF EX-PRESIDENT GETULIO VARGAS – A small Colonial type house, used as the Presidential Residence when Rio de Janeiro was the Capital of Brazil. The gardens behind the house are beautiful, well-kept, and provide a peaceful feel. It is very easy to get there, as Catete Metro stop is right beneath the house. Cost: 6 reais, on Wednesday Free Admission.
JARDIM BOTANICO (Botanical Garden) – Shows the diversity of Brazilian and foreign flora. There are around 6,500 species planted and distributed throughout an area of 54 hectares, and there are some greenhouses. The garden also houses monuments of historical, artistic, and archaeological significance. It was founded in 1808 by King John VI of Portugal. Cost: R$15.00.                                                                           
ILHA FISCAL – Commissioned by the last emperor of Rio de Janeiro, Pedro I, the building was built to resemble a European Castle. It was used as Rio de Janeiro's customs checkpoint being the only naval access into Rio. The last imperial ball was held there less than a week before Brazil was declared a Republic. Cost: $ 25,00 reais.
JOCKEY CLUB – Built-in 1926, and located in Gavea, close to the botanical gardens, the Jockey club not only has a wonderful track and view of the Christ statue but the architecture that will transport you back in time. The club does have a dress code that they uphold to: men must wear pants, a shirt with sleeves, and at least tennis shoes. Women should dress at the very least casually. T-shirts are ok to wear.  If you have bet on horses before, the betting is fairly easy to understand, and very inexpensive to participate. In addition to live racing, there are televised races from around the world. Cost: Free Admission.
MOSTEIRO DE SÃO BENTO – The monastery was founded by Benedictine monks who came from Bahia in 1590, and until the monastery was built, resided in a simple inn close to the hill on which the monastery now sits upon.  In 1617, the monks finally had enough funds to build the monastery, however, only in 1633 did the baroque style church start being built, only to be completed 122 years later, in 1755.  Although, the facade of the church looks simple the inside is ornately covered in gold leaf gilding. There is a traditional Sunday mass that starts at 10 am with Gregorian chanting. If you do not arrive by 9:30 there will be standing room only. Cost: Free Admission.
MUNICIPAL THEATRE – Built at the beginning of the 20th century this opera house was designed in a diverse style inspired by the Parisian opera house Opera Garnier. The theatre's interior is as extravagant as it's a facade, with sculptures, paintings, a majestic drop curtain, and a stunning foyer ceiling. The theatre's restaurant, Assírius, is located on the ground floor and designed in a remarkable Assyrian manner. Being located in front of the Cinelandia metro station, allows this theatre to be extremely accessible. Although there is a dress code, it usually is not rigid, no shorts or flip flops are allowed. Guided English tours are available at 2 pm on Tuesday – Friday and 12 pm on Saturdays and holidays. Cost: Guided tour $20 reais.
ILHA PAQUETÁ –  Paqueta was once occupied and claimed as a French discovery by King Henri II in 1556. Along with another island in the Bay, it played a key role in the French resistance against the Portuguese. Now, Paqueta is a quiet island, with no cars. The only transportation on the island is a bicycle (there are hundreds you can rent), horse-drawn carts, or walking. It's a wonderful place for a romantic walk. There are small restaurants on the island that you can eat at or there are places to have a picnic. To get there you have to get a boat downtown that takes you to the island. The boat ride is about an hour. Cost: Ferry tickets are 12 reais round trip.
PARQUE LAGE – A public park with a mansion that was formally the residence of Henrique Lage, Brazilian industrialist, and his wife, opera singer, Gabriela Bezanzoni. With beautiful gardens, hiking trails and a view of the Christ the Redeemer statue, this park is perfect to escape from the city for a few hours and enjoy nature. There is a wonderful café inside the mansion that serves brunch on Sundays. Cost: Free Admission.
REAL GABINETE PORTUGUES DA LEITURA –  Built-in 1880 with Emperor Dom Pedro II laying the first stones and only finishing in 1887 when it was inaugurated by his daughter Princess Isabel and her husband the Gaston d'Orléans. Open to the public since the 1900s, this royal library owns the largest collections of Portuguese literature outside of Portugal. With over 350,000 books by both international and national authors. In July 2014, it was voted, by Time Magazine, number 4 out of 20 for the most beautiful libraries in the world! Cost: Free Admission.
SÃO CRISTOVÃO FAIR –  Rio has a large population of Brazilians from the Northeastern states, and this fair represents their culture. With over 700 stalls all influenced by their culture, there is something for everyone at this fair; food, crafts, or even dancing and the music. The food is authentic Northeastern food, filled with spices. Come hungry as portions are big and usually can be shared. There are Forró bands  (a genre of Brazilian music that is originally from the Northeast, usually has an accordion and triangle), that play while people dance all through the night. (The best ones are on small stages). The fair is open from 10 am on Friday to 9 pm on Sunday. It is a partially covered fair so we recommend going only if it isn't raining! Cost: Admission = 4 Reais. Food, usually between 40- 50 Reais for 2/3 people.