Rio is synonymous with some of the world's most iconic beaches.  The Best Beaches in Rio de Janeiro include the legendary boardwalk of Copacabana Beach and Ipanema Beaches, where the famous "Girl From Ipanema" song was written are among the most famous in the world. Going to the beach in Rio is a quintessential experience for any traveler's bucket list.
What sets Rio's beaches apart from any other is the ATMOSPHERE. THE BEACH is an absolute passion and institution for Rio's locals, also knowm as "Cariocas". Locals can be seen playing soccer, volleyball, or simply soaking in the warm tropical sun while drinking ice cold beers, sodas or caipirinhas. If the sun is out, the locals are at the beach no matter the day of the week.
Rio offers many different beaches each with a unique vibe – from busy crowded people watching to intimate small relaxing coves. Below is a list of the best beaches in Rio de Janeiro that we recommend for travelers.  The first four beaches on the list are located in the South Zone (Zona Sul) as it is the safest part of the city and easiest access to most main attractions. Most beaches in the south zone are marked by the lifeguard post (Posto), and people use it as reference of their location or meeting point.
Copacabana Beach (Praia de Copacabana)
One of the most famous beaches in the world is of course Copacabana beach. Lying in the backdrop of the iconic Sugarloaf Mountain, Copacabana beach stretches nearly two and a half miles in a "U" shape with quiet and family friendly Leme beach at the beginning of the beach and the end of the beach with "Arpoador". Copacabana features a popular wave-like mosaic boardwalk popular with tourists and locals.  While many go to the beach for some sun, surfing or a dip in the ocean, others opt for land-based activities such as beach soccer, beach volley, running or jogging, cycling, or foot volley (volleyball played only with feet). Copacabana beach is also the location for one of the world´s greatest New Year´s Eve parties, with over 2 million people watching the spectacular fireworks. Along the beach, anything you might need is on sale from the vendors who call out to get people attention, from food, drinks, sarongs to bikinis while the beach kiosks along the beachfront are relaxed places for drinking and dining. You can pick a spot that you like on the beach and rent a chair and an umbrella from the closest beach tent (barraca in Portuguese). The cost of each is about R$5 for the whole day.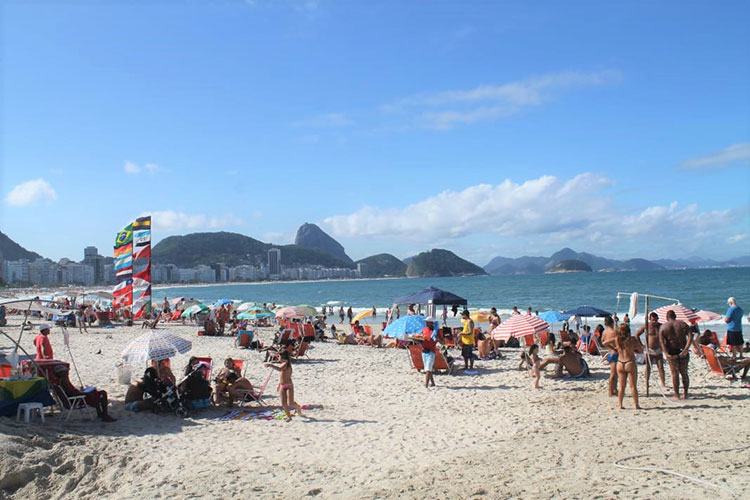 Ipanema Beach (Praia de Ipanema)
Just after Copacabana, lies the upscale neighborhood and its beach, Ipanema . Ipanema is Copacabana's more upmarket counterpart and it's become even more famous because of the song "The Girl from Ipanema." With fewer high-rise hotels than Copacabana, Ipanema is the ideal place to spend hours sunbathing with the beautiful locals or simply relaxing at one of the boardwalk kiosks sipping on a beer or coconut while people watching.  Each "posto" or lifeguard station features a different crowd and vibe. At the beginning of Ipanema beach, there is the famous Arpoador, (post 7), featuring the giant rocks that jut out from the shore into the crashing waves. At sunset, crowds gather along the rocks to witness one of Rio's best sunsets.  The LGBTQ crowd tends to gather between Post 8 and Post 9. Posts 9 and 10 tend to be the most crowded and popular among locals and tourists.  Beach umbrellas and chairs can be rented at any of the dozens of kiosks – some which even accept all major credit cards. Food and drinks (both alcoholic and non-alcoholic) are available.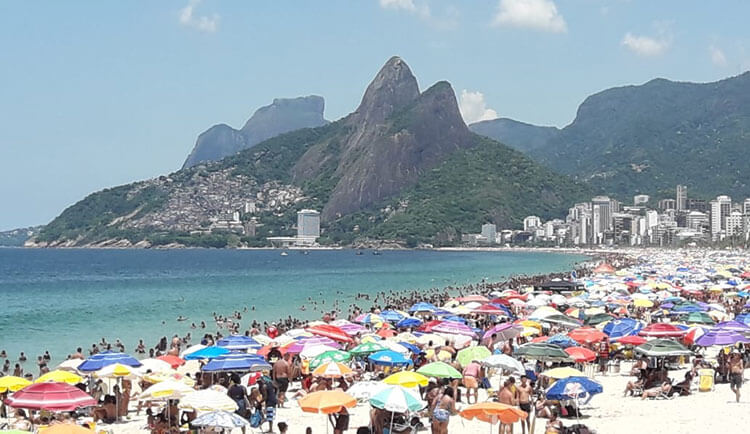 Leblon Beach (Praia do Leblon)
Located just after Ipanema beach on posts 11 and 12, Leblon beach is Rio's most upscale beach. The crowd is much quieter than Ipanema and more sophisticated and there is more space on the sand versus Copacabana or Ipanema.  Leblon is one of Rio's most exclusive neighborhoods and features many amazing boutiques and great restaurants and a very relaxed beach vibe. If you are looking to people watch and see some of Rio's best-looking locals, we recommend this beach. Leblon offers a closer view of the Two Brothers Mountain (Morro Dois Irmaos) with favela Vidigal at its feet. Although Leblon may not be as well-known as Ipanema or Copacabana, it definitely is worth a visit.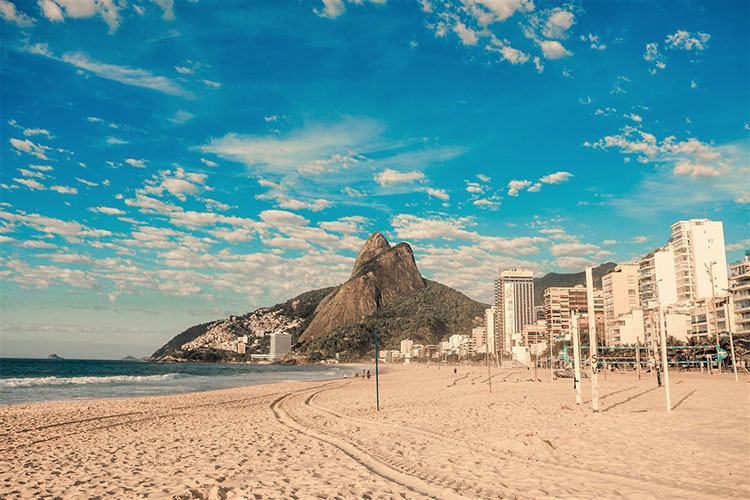 Red Beach (Praia Vermelha)
The Red beach (Praia Vermelha) might be the most underrated and overlooked beach in Rio. It is located in one of the nicest neighborhood called Urca. This small beach has reddish sand in a protected cove at the base of stunning Sugarloaf Mountain. The mountain and ocean backdrop is stunning. Surrounding rocky platforms and caves turn the sea into a bay, making it popular for canoeing and stand-up surf paddling thanks to its calm and peaceful waters. There is a nice trail that leads around the base of Sugar Loaf itself. It´s a scenic 20-minute stroll that's made all the more enjoyable by the sight of monkeys playing in the trees. On the other end of the beach, a bar-restaurant offers decent food and nice views.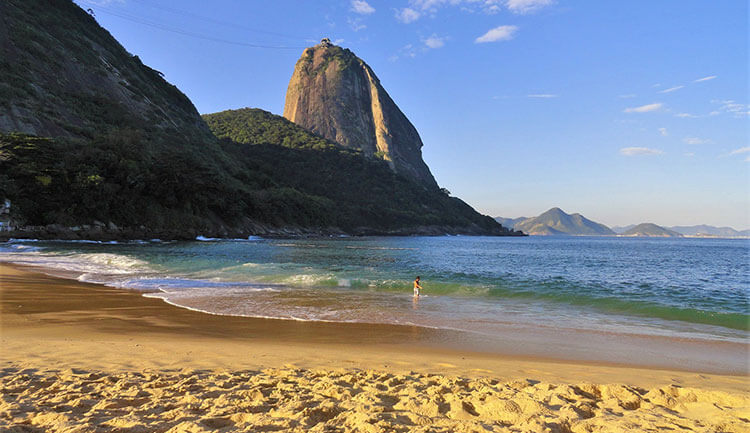 Other best beaches in Rio de Janeiro that are NOT in the south zone (zona sul) are listed below, therefore, transportation is required if you'd like to go there. Keep in mind that TGW always recommends its clients to stay in the south zone (zona sul) for safety reason. And if you'd like to visit one of these beaches below TGW can add and arrange a driver or a tour to your package.
Other best beaches in Rio de Janeiro that are NOT in the south zone (zona sul) are listed below, therefore, transportation is required if you'd like to go there. Keep in mind that TGW always recommends its clients to stay in the south zone (zona sul) for safety reason. And if you'd like to visit one of these beaches below TGW can add and arrange a driver or a tour to your package.
Barra de Tijuca Beach
Barra da Tijuca beach is the longest in Rio de Janeiro. Located in wealthy suburb, it spans 11 miles (18 kilometers) from Morro do Joá to the Recreio dos Bandeirantes neighborhood. The beach attracts a mixed crowd along its course, from relaxing families to water sports enthusiasts, attracting surfers, bodyboarders, kite surfers, and windsurfers with its consistent waves. This pristine beach of white sand is blissfully quiet during the work week and crowded on the weekends. Even on sun-soaked weekends, there´s plenty of room for tanning and socializing at this beach as it is so enormous. Barra da Tijuca beach features a large boardwalk and many  restaurants, kiosks and beach tents,. We recommend hanging on the beach around Posto 2, 3 and 4 (numbered lifeguard posts) where there are some cool kiosks and nice restaurants around. The further you go less things (or nothing) you will find. It takes about 40 minutes car ride from the south zone to get to nearest part of Barra da Tijuca beach.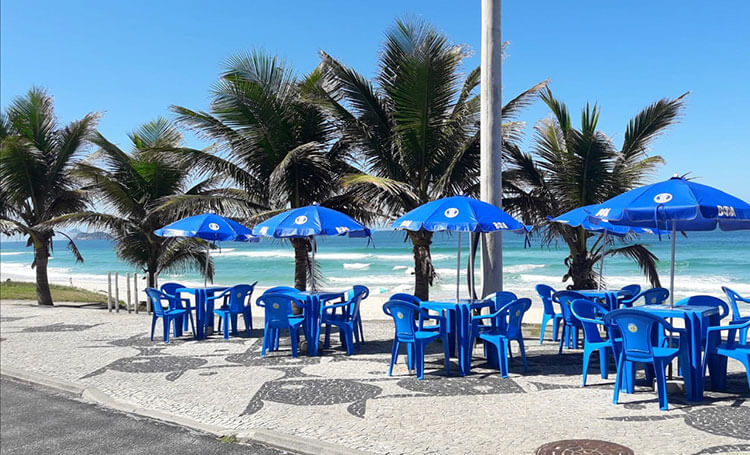 Prainha Beach
This beautiful beach is located over an hour drive southwest from Rio south zone. This stunning crescent of sand flanked by rainforest-covered mountains. The sands here are soft and white, and the waves of the bright blue waters attract many surfers, though it's also common to see families enjoying the secluded shore here. The Mirante da Prainha is a short walk from the beach with a fantastic view and all the amenities required for a pleasant beach stay. It is a great place to take you camera to capture the beautiful scenic landscape. There are some kiosks selling food and drinks around but not many. Prainha can get quite crowded to setting there EARLY is a must during high season summer months.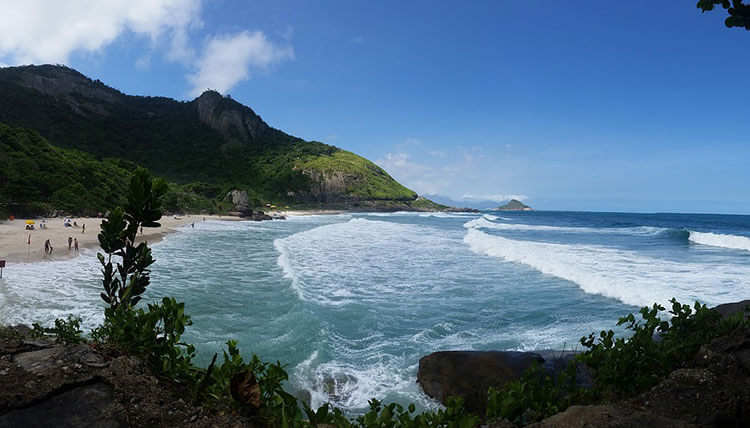 Grumari Beach
About 15 miles west of Rio and a one hour's drive from the south zone, Grumari beach is a wonderfully unspoiled beach surrounded by dense jungle and accessible only by car. The beach is quite isolated and not as busy as south zone's beaches. It is a good beach to escape the crowd. The vehicles access to the beach is limited on weekends and holidays, meaning that it never gets too busy. This beach is located in an area of environmental protection, meaning no risks of high rise hotels spoiling the tranquility any time soon. As such, so this is a top spot for nature-loving visitors. Families tend to favor this beach for its calm waters and plenty of space for children, however, it is a perfect sanctuary for anyone wanting to take a time out and relax away from the city. Shops and beach vendors are hard to come by, so make sure you bring food, drinks and anything else you might need while you're at the beach. Get there EARLY as parking is very limited.