One of the most common questions we get is "Where is the best place to stay in Rio for Carnival"?
Every year, Rio de Janeiro hosts the best and biggest party in the world! The event attracts millions so where you stay in Rio for Carnival will affect your experience.
By the Sambadrome?
Most people think the best place to stay in Rio for Carnival would be close to the Samba Parade. The Sambadrome is located close to downtown Rio. There are not many hotels in this area, and it can be unsafe, especially at night. WE DO NOT RECOMMEND THIS AREA.
Some areas that do have hotels close to downtown are Lapa & Santa Teresa. You may find great deals for hotels in these areas, but again at night these areas are unsafe and a little seedy. During the day they are full of street parties, which makes getting in/out of these areas stressful as well as a bit smelly due to trash and portable bathrooms.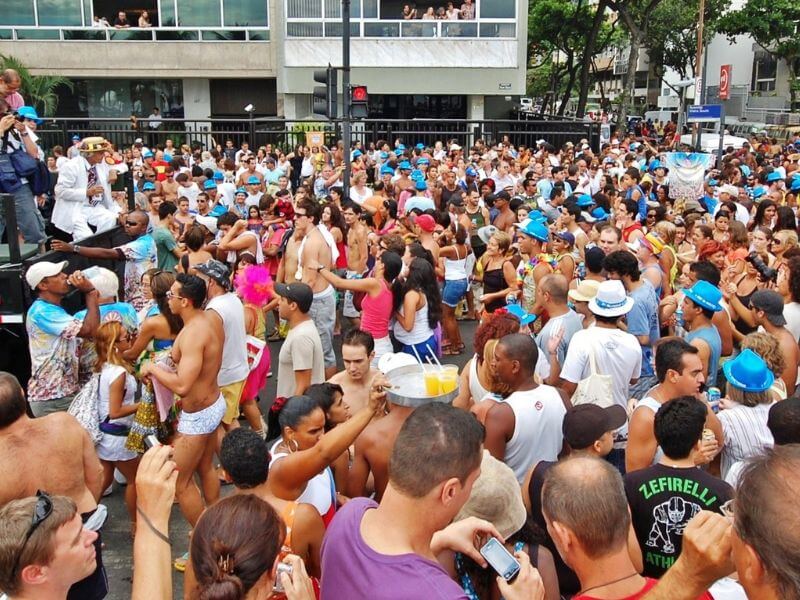 Great Deals in Barra de Tijuca?
Another area you may find on your search for a place to stay is Barra de Tijuca Area in the Western part of Rio. Although this area is nice, you will need a car to get anywhere. Many streets are closed due to the street parties (blocos), which causes traffic to increase exponentially.
If you stay in this area, you will be far away from the best events and be stuck in traffic trying to get to them. WE DO NOT RECOMMEND THIS AREA.
The Best Place to Stay in Rio for Carnival is the South Zone
The best place to stay in Rio for Carnival is Rio's South Zone (Zona Sul) and the neighborhoods of Copacabana, Ipanema & Leblon. This area is one of the safest in Rio for Carnival because of increased police monitoring. It is also very tourist friendly with a great array of restaurants, bars, and shops. Rio's South Zone also has some of Rio's Best Beaches.
Within this area, we recommend Copacabana and that is where we put our guests booking our Rio Carnival Travel Package. It offers more hotel options (for all budgets) and has more accessibility with bigger streets than the other neighborhoods. Ipanema and Leblon are great but are a lot more expensive and have less hotel options. We recommend these two areas over Copacabana when it isn't Carnival.
Final verdict – if you want to enjoy Carnival in the safest and most memorable way, the best place to stay in Rio for Carnival is without a doubt Copacabana in the South Zone.
If you are looking for a No-Hassle Rio Carnival Experience, we recommend booking with us. We have been providing Rio Carnival packages since 2004 and know the ins and outs of the event. Plus, with the ever-changing uncertainty of travel during this time, it's always good to book with an agency that can guide you through everything before, during and after the trip.