When is the best time to visit Brazil? The answer depends entirely on what you want to do and what activities you are interested in doing.  Brazil is a warm tropical country with "opposite" seasons from the northern hemisphere.  When it is freezing cold in the USA/Europe and Canada, it is the PEAK of the summer in most of Brazil! This means that hot tropical beach days can be enjoyed in December, January and February making it an awesome and popular escape during these months for resident of the USA/Canada and Europe. The summer months are also popular as they coincide with , New Year's Eve and the world famous Rio de Janeiro Carnival (between February & March; See All Rio Carnival Dates).
Brazil is divided into 5 different regions: Southeast, South, North, Northeast & Central-West. It is a huge country so as far as the best time to visit Brazil depends on where you want to go. The weather, travel seasons and top events are different for some regions.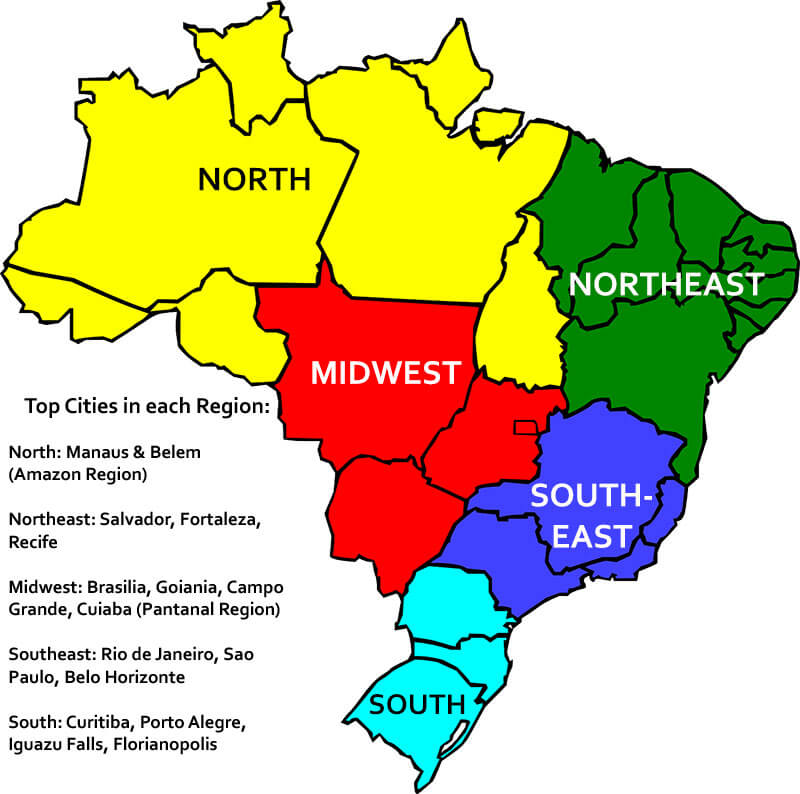 Weather
Although Brazil theoretically has four seasons, in general Brazil has only two major seasons: dry season and wet season. Dry season goes from March to November and wet season from December to February.
Brazil Seasons:
Summer: December – March
Autumn/Fall: March – June
Winter: June – September
Spring: September – December
Summer is hot in most parts of Brazil. Temperatures can reach well over 100 degrees Fahrenheit with high humidity as this is also the rainy season.   Winter months can range in the 70's and 80's and tend to be drier. Brazil splits into four distinct climatic regions but is generally quite warm year-round except for the very south of the country.
North: Hot Year-Round (70 to 85 degrees F)
Northeast: Hot Year-Round especially in the Dry Season, which can get up to 100 degrees F
Midwest: The Pantanal region experiences hot temperatures year-round; Brasilia has mild temperatures in the winter due to its elevation
Southeast: Hot in the summer. Rio de Janeiro experiences a very mild winter with average temperatures in the 70s. Sao Paulo also has a mild winter, but it can get into the low 50s as it's situated on a plateau.
South: The weather is hot & mild in Summer, but it can get into the 40s F in the Winter. The further south you go, the colder it gets in Winter.
Travel Seasons
High Season
High Season in Brazil is from Christmas until after Carnival (Feb/March). We highly recommend these months if you are looking for great nightlife and weather. This is when accommodation and flights are their most expensive, especially between December 20 to January 10.
Even though, it is winter in Brazil, July – August is also considered high season as it is when a lot of Brazilian Universities and Schools are off. It also coincides with European and US summers, which is when a lot people travel. So expect higher prices during this time.
Holidays are also considered high season as Brazilians tend to travel during this time and the tourist cities are more packed. The following holidays are observed in Brazil: New Year's Day (Jan 1); Carnival; Easter; Tiradentes Day (Apr 21); Labor Day (May 1); Corpus Christi; Independence Day (Sept 7); Our Lady of Apparition (Oct 12); All Souls' Day (Nov 2); Proclamation of the Republic (Nov 15); and Christmas Day (Dec 25).
Shoulder Season
If you want to take advantage of better deals and milder weather, we recommend traveling to Brazil between March & June as well as September to December.
Special Events
Brazilians are considered some of the most festive people in the world! You can travel year-round to Brazil and have an amazing tme, but if you are looking to experience one of the country's top events, we recommend the following. Keep in mind that traveling during this time is more expensive, but you will be guaranteed a fun time as well as a once in a lifetime experience!
Brazilian Carnival – Carnival in Brazil is celebrated all over the country, but the most famous Carnival's in Brazil are in Rio de Janeiro, Salvador, Recife & Sao Paulo (in that order). See Carnival Dates
New Year's Eve – One of the most iconic New Year's destinations in the world is Rio de Janeiro. Beach cities like Buzios, Florianopolis, Jericoacoara, etc are also popular during this time.
Easter – Most Brazilians will amend some days during Easter week and will tend to travel by car to nearby small tourist cities. For instance, the towns of Buzios and Paraty are packed during this time from people traveling there from Rio or Sao Paulo.
Oktoberfest – Oktoberfest isn't only celebrated in Germany. The south of Brazil has a ton of German immigrants. The Oktoberfest in Blumenau, Brazil is the largest Oktoberfest outside of Germany. This event isn't one of our featured special events, but if you are interested in attending, we can definitely assist you!