****Due to the recent changes & uncertainty with the tournament as well as the fact that the games will be played without fans, TGW Travel Group WILL NOT be offering Copa America Travel Packages this year.****
The Copa America 2020 Tournament was postponed to 2021 because of the Coronavirus Pandemic. The 2021 Copa América will be the 47th edition of the Copa América, the international men's football championship organized by South America's football ruling body CONMEBOL. The tournament will take place in Brazil from 12 June to 10 July 2021.
The participating CONMEBOL countries are Argentina, Bolivia, Brazil, Chile, Colombia, Ecuador, Paraguay, Peru, Uruguay & Venezuela as well as two invited squads – Australia & Qatar, so there will be 10 teams total. So expect to see your favorite players such as Neymar, James Rodriguez, Luis Suarez, Coutinho, Dybala, and many more superstars.
SEE COPA AMERICA TRAVEL PACKAGE DETAILS
Copa America Travel Packages:
Round Trip International Airfare
Domestic Airfare if applicable
Hotel Accommodation
Airport Transfers
Transfers between cities
Tours
* Packages are 100% customized as long as they fall within the event dates. We can provide multi-city packages as well as 
** We can provide airfare from anywhere in the world.
Copa America Match Groups: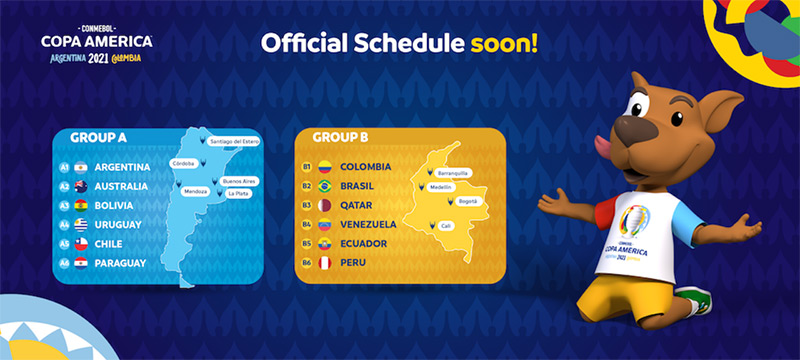 Copa America Match Schedule:
The first match takes place on June 11, 2021 between Argentina & Chile in Buenos Aires. Download the 2021 Copa America Match Schedule.