Let's face it, if you planned to trip to Rio this summer (June thru September), you most likely had to postpone it until later in the year or 2021. Many countries closed their borders and put restrictions on travelers allowed in because of the Coronavirus Pandemic. Everything is a little uncertain at the moment in terms of traveling to Rio.  The good news is we live in a modern digital world. Obviously a Rio de Janeiro Virtual Tour isn't the same thing, but at the moment it's the best way to experience the city.
Arguably one of the most beautiful cities in the world, Rio has a lot to offer. The city itself surrounded by mountains, jungle (the largest urban jungle in the world), and oceans. No wonder it carries the title "Cidade Maravilhosa" (The Marvelous City in its native Portuguese language). It is also home to some famous beaches such as Copacabana, Ipanema, and where they have the best Carnival on the planet (no argument!!!).
You get the idea! You could be sitting on the beach sipping a Caipirinha or fresh coconut water with the sun touching your skin, or you could be exploring the city by visiting the most iconic symbol of Rio, The Christ Statue (Cristo Redentor), Sugarloaf Mountain (Pao de Acucar), the colorful steps (Escadaria Selaron), the Botanical Garden and many others. Rio is full of life…never empty!
We scoured the internet trying to find the best Rio de Janeiro Virtual tour and found one on Youvisit.com. It was the most comprehensive virtual tour that was easy to use and showed Rio de Janeiro's top attractions. Enjoy by clicking on the picture below.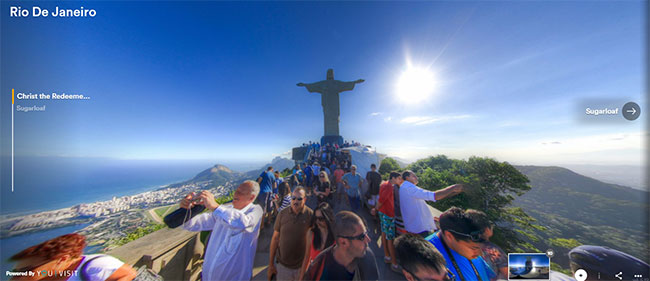 Once the world has opened up and you feel comfortable traveling again, check Rio de Janeiro off your bucket-list with us! We have been offering this incredible city since 2004 and also have staff in Rio to assist you with anything while you are there. Check out all of our Rio de Janeiro Vacation Packages.