When you think of Rio de Janeiro Carnival, you instantly think about its World-Famous Samba Parade. However, what makes the event stand out as one of the world's top events is its Rio Carnival Parties.
They are divided into Carnival Themed Parties, Formal Balls, Street Parties (Blocos da Rua) as well as VIP Parties (Camarotes) within the Samba Parade.
Carnival Themed Parties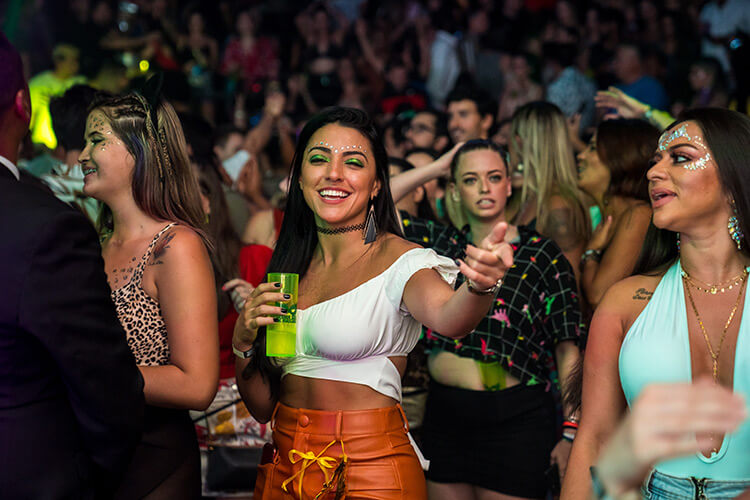 Every year during Carnival, Rio's top promoters organize OVER-THE-TOP private parties all over the city. These parties are held at some amazing venues like Rio's Jockey Club, Morro da Urca (one hill below the Sugarloaf Mountain), Maracana Stadium, as well as private clubs and mansions.
To get into these parties, you must purchase a ticket and most start at night, but some are day parties.
These Rio Carnival Parties feature live shows from famous local bands, singers and DJs. A plus about attending these upscale parties is that they are full of locals as they are mostly marketed to only Brazilians.
The great thing about booking with TGW is that our  Rio Carnival Travel Package includes entrances to 3 Rio Carnival Themed Parties along with transportation, VIP Hosts, and a VIP Area for our group.
Formal Balls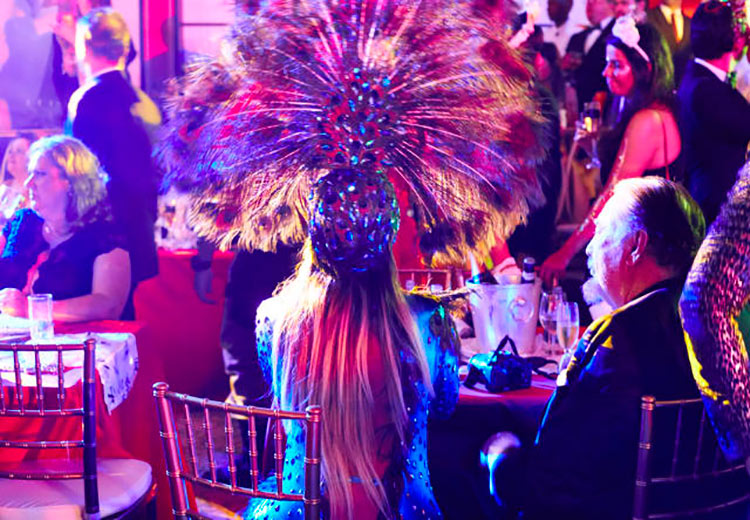 If you are looking to attend a formal ball, we recommend the Copacabana Palace Magic Ball. It's a high-profile event held at Rio's fanciest hotel, so expect to party with Rio's elite. To attend, you must wear a luxury costume, tuxedo (men) or gala dress (women).
The event is usually held on the Saturday of Carnival. Tickets start at around US$500/$600 for Standing ONLY and increase in price for reserved seats at tables. The event is all-inclusive (food & drinks) and includes entertainment. If you are looking to add on this event, let us know and we can send you pricing separately.
The Street Parties (Blocos da Rua)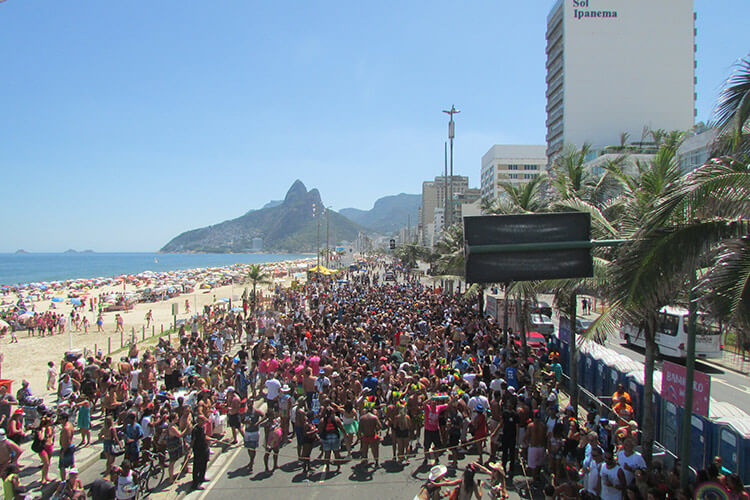 Rio Carnival's Street Parties are free and happen all over the city. There are more than 300 blocos and they vary in size with a wide array of different themes and musical styles, from Samba (mandatory) to rock. Some attract millions, others only a few hundred. Wearing a costume is not a requirement, but it's definitely recommended.
The street parties happen during the day (some start as early as 8am!!!). Traffic shuts down and cars are replaced with people. Some blocos are static while others move around a few blocks. Every neighborhood in Rio has its own share of block parties, so you don't have to travel far to enjoy an unforgettable street celebration during Carnival.
To check out the top street parties, download our Rio Street Party Guide (updated about a month prior to Carnival).
Camarote Parties within Sambadrome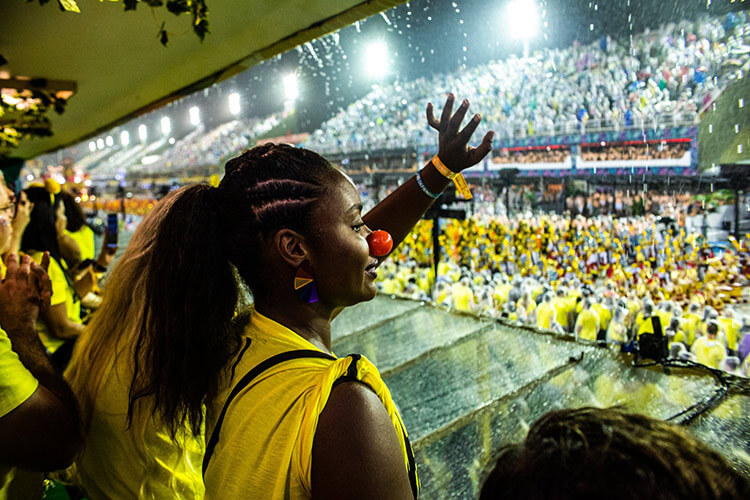 The Samba Parade is undoubtedly the "Greatest Show on Earth". It is a colorful, vibrant and beautiful spectacle that draws people from all over the world. The main event is held on Sunday & Monday of Carnival as 12 Samba Schools compete to be that year's champion.
The parade is held at the Sambadrome, located in downtown Rio. To watch the parade, you can choose to sit in the bleachers, in open box seats on the ground level or in VIP Closed Boxes (Camarotes).
Camarotes are the Top Rio Carnival Parties during the Samba Parade. These VIP Boxes are similar to large suites at sporting events, where the main focus is to be in an upscale, comfortable place to check out the main event. They feature different environments with their own entertainment, food and drinks. Just keep in mind that these parties are the most expensive (starting at around US$500/person). If you have booked a package with TGW and want to add-on one of these parties, contact your TGW Rep!
Making the Most Your Rio Carnival Party Experience
We have been offering Rio Carnival since 2004 and designed our packages so you get the most out your experience. By booking your package with TGW Travel Group, you are guaranteed to be at some of the best Rio Carnival Themed Parties with VIP Access. These are the upscale parties that are harder to find and where you will find local Brazilians.
A Written Rio Street Party Guide is also provided to you with your travel documents so that you can enjoy the Top Blocos. The exact times and addresses are provided so you can find the best ones. As this is a group trip, we notice that a lot of our clients will get together and go to the same parties.
We also provide you with the flexibility to add on any section of the parade you would like (whether it be the Bleacher section or a Camarote Party) as well as additional tours or parties like the Copacabana Magic Ball.
If you are looking to have the time of your life without the hassles, join us for Rio de Janeiro Carnival! If you are still not sure what to expect, Check out our After-Movie from our last Rio Carnival Trip below: