TGW Travel has been offering Carnival in Brazil Packages to Rio de Janeiro and Salvador since 2004 and is the absolute expert in the industry for group packages all over Brazil for Carnival. Below are some FAQs we get from our guests and clients.
Is there more than one Carnival in Brazil? I thought the carnival was only in Rio de Janeiro?
YES! Contrary to popular belief there are quite a few Carnival celebrations all over Brazil. While  Rio de Janeiro Carnival is the most famous out of all of them, other big ones are in Salvador, Bahia Brazil as well as in Recife, Brazil in the northeast part of the country.
Where is Salvador Brazil? Is Salvador the same as El Salvador?
NO!! The name of the city is Salvador, Bahia, located in the northeast of Brazil (about a 2-hour flight from Rio or Sao Paulo) and a city of several million people. Salvador, Bahia Brazil (Bahia is the state and Salvador is the city) is NOT to be confused with the Central American country of  "El" Salvador!!  Because it is not that well known outside of Brazil, Carnival in Salvador is a well kept secret and more of a "locals" carnival – thus the reason why you probably hadn't heard of it!
Does the Carnival in Salvador happen at the same time as the one in Rio?
YES. Both Carnivals are at the same time, but Carnival in Salvador starts on Thursday, and the main events for Carnival in Rio start on Friday. To get the maximum experience, you would need to choose one or the other.
What is the difference between the parties and celebrations between the two Carnivals?
Salvador Carnival is more of a street party with locals vs Rio which features more parties/clubs and the famous Samba Parade. For the Carnival in Salvador,  you celebrate by actually participating in street parties or grandstand clubs called "camarotes", while in Rio you attend the Carnival parade typically on one night (Sunday and/or Monday nights are the best nights) while the other nights are spent at private carnival parties. (Here is a useful link for FAQ's regarding Rio's carnival).
Are there Carnival street parties in Rio?
YES. Carnival in Rio is growing and evolving into a street party carnival in recent years and is becoming more and more similar to Carnival in Salvador. The main difference though is the sheer scale. Carnival in Rio has hundreds of smaller (and a handful of large Bloco street parties) but they pale in comparison to those of Salvador which has literally MILLIONS of people and is the world's largest street party. (below is a picture of a typical bloco in Rio).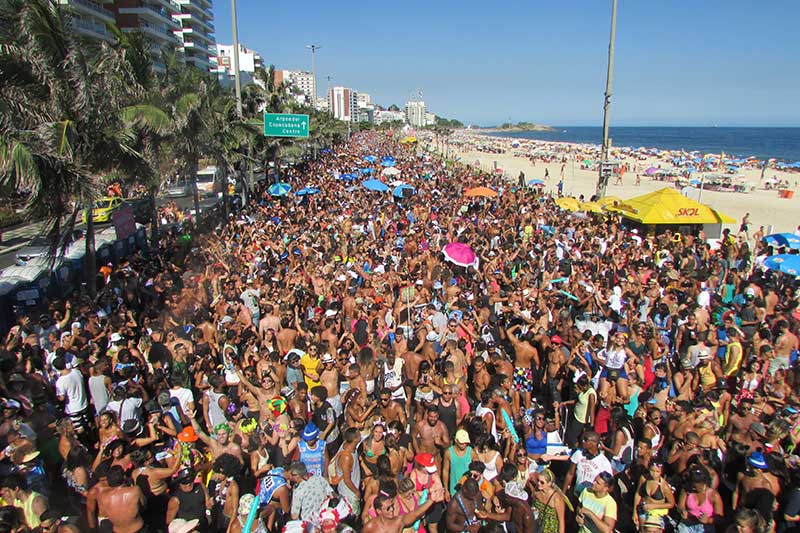 Are Carnival street parties in Brazil free?
In Rio YES, in Salvador, they are NOT and actually very expensive. In Salvador, you must pre-purchase street party shirts called "abadas" (pictured below). Abadas range in price from about $50USD for the "not so good" parties up to over $500 for one single party! In Rio, parties are not as organized and commercialized, as Salvador which can bring in big-name artists and thus charge a hefty fee for the Carnival parties.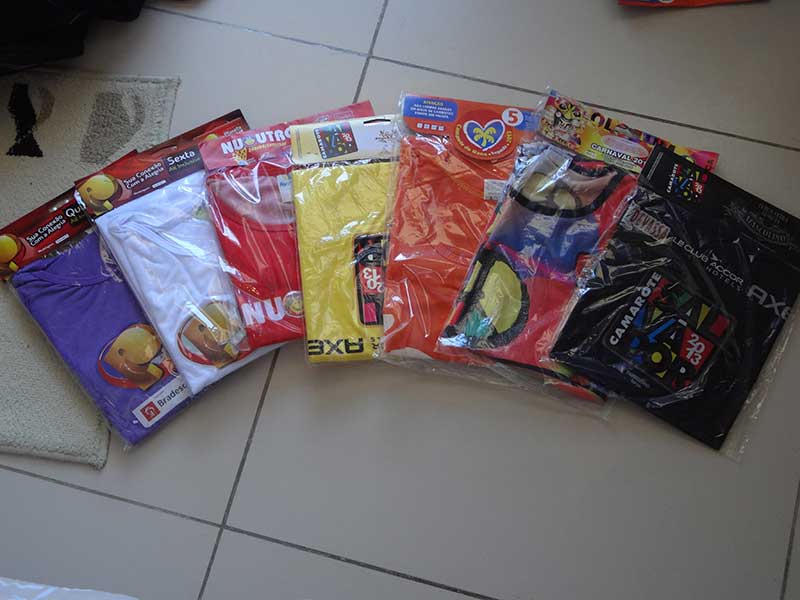 What are carnival parties like in Salvador?
In Salvador, there are two basic types of parties, grandstand parties "Camarotes" which are basically huge clubs with multiple rooms, DJ's, food/drinks and balconies that overlook the street party circuit (pictured below) as well as "Blocos" which are the organized movable street parties. Camarotes tend to be more relaxed and "club" like while blocos can be quite rowdy as it is a moveable street party of several thousand people. Some people enjoy camarotes more than blocos as blocos can have "bottlenecks" and get very very crowded. They are NOT for people who are claustrophobic or people that are not good with crowds. This goes for Carnival in Salvador in general. If you are NOT good with large crowds and being in tight proximity with thousands of people, we highly recommend that you go to Rio Carnival INSTEAD of Salvador!!
Can I choose to go to both Carnival in Brazil? Rio and Salvador?
Theoretically, it is possible but in practice not doable for most people to attend both Carnivals as they are quite far from each other and hotels also impose mandatory 4 to 5 nights minimum stay requirements in either city. If you were to spend less than the "minimum" number of nights in either city, the hotels would bill you the full amount of the mandatory (and oftentimes very expensive special "carnival" rate)  making the prospect of going to both  Carnivals extremely expensive.  If you would like to get the "Best of Both worlds" however, you could partake in TGW's "Ultimate Carnival Package" which lasts 9 nights. The package goes to Carnival in Salvador but is in Rio AFTER Carnival where you have the opportunity of seeing the " Carnival Winner's Parade" in Rio.
I need help deciding on which Carnival in Brazil to select. Any suggestions?
YES! If you have never been to Brazil before, we recommend our Rio de Janeiro Carnival Package. It is less expensive than Carnival in Salvador and we have a much larger group in Rio. If you have been to Rio de Janeiro before and want to get off the beaten path, then we recommend Carnival in Salvador. If you have a larger budget and have more than 5 nights for a trip then we recommend doing both! The ULTIMATE package.
We also recommend watching both of our Carnival videos (at the end of this blog). People typically watch videos and "self-select". Many people get extremely excited after watching the Salvador video or very put off, think "no way! This is for me" and opt for Rio instead! Check them both out and decide for yourself!! We also recommend obtaining pricing for Salvador AND Rio Carnivals so you can compare pricing. Carnival in Salvador is NOT cheap and it must be done correctly with quality parties (for safety reasons) so if you do not have a larger budget or simply do not want to spend as much then definitely choose Rio instead!
Below are also some "pros and cons" to help you decide:
Salvador Carnival in Brazil
Pro's
Authentic unique "locals" carnival.
Wildest carnival in Brazil
World's largest street party.
Cons
Quite a bit more expensive than Rio (due to having to purchase parties).
Large crowds/bottlenecks (you must be careful with pickpocketers). Better for more seasoned travelers!
Not as scenic/beautiful as Rio de Janeiro. Many people want to see Rio if they have never been to Brazil.
Very basic hotel infrastructure versus Rio.
Rio de Janeiro Carnival in Brazil
 Pro's
The natural beauty of Rio.
Definitely "bucket list" type event you must see once!
More affordable than Salvador
Less hectic/more organized than Salvador.
Better hotel infrastructure.
Cons
More touristy than Salvador with international tourists.
Smaller style street parties versus Salvador.
Still have questions or need help deciding? Contact one of our reps or call us at 1-877-456-WILD and we can help you! Need pricing for any of our Carnival in Brazil packages? Fill out the form below and we'll get back to you ASAP!