Rio de Janeiro is one of the most exotic cities in the world. It is packed with things to do like checking out its main attractions (Sugarloaf & the Christ the Redeemer Statue), hiking the Tijuca Forest or relaxing in Ipanema Beach. What people don't know is that there are also some incredible places to visit near Rio de Janeiro.
If you are looking to get off the beaten track or want to get out of the hustle and bustle of the city, there are a few options to consider. From chic beach resorts like Buzios, to stunning pristine beaches like Cabo Frio and colonial cities like Petropolis, there are definitely some cool places to visit near Rio de Janeiro. Check out the top places to visit near Rio de Janeiro below.
Buzios
175 km / 109 miles from Rio (3 hour drive)
Once a small, quiet fishing town, Buzios gained its fame after the French famous actress Brigitte Bardot made her first visit with her Brazilian boyfriend in the 60s. From there on, Buzios became extremely popular to Rio's high society who wanted to escape the city life. The city of Buzios is where they rich and famous go for the weekends – the Hamptons of Rio if you will!
Buzios features over 20 beaches each with a different vibe. Geriba, Tartaruga, Ferradura, Azeda, João Fernandes and Armação are amongst the most popular. At night, Rua das Pedras, town's main cobble stone street, offers its visitors an active nightlife and a great selection of shopping, art galleries, bars and restaurants. This town has grown to be an attractive tourist destination, for both locals and international tourists from South America alike.
It is a popular and perfect weekend getaway from Rio. We highly recommend a 2 to 3 night stay in Buzios. If you are short on time, Full Day Tours are offered, but they are pretty intense as you will spend close to 6 hours in a car or bus. One thing to keep in mind is that Buzios gets very busy in high season in December through February as well as in Easter week and long weekend holidays.
Cabo Frio & Arraial do Cabo
150 km/166 km (100 miles) from Rio de Janeiro (2.5 hour drive) / 30/45 km (24 miles) from Buzios (45 min to 1 hr drive)
Cabo Frio & Arraial do Cabo are towns with some of the best beaches in Brazil – white sand & crystal clear, blue water. We highly recommend taking a day trip from Buzios or Rio de Janeiro vs. staying there as the hotel infrastructure is still developing.
Cabo Frio or "Cold Cape" in English is a small bustling city with a stunning historic quarter and equally impressive beaches. The beautiful shore of Praia do Forte and a little of the history of the city with cobblestoned roads and colonial buildings around Passagem, the old part of the city. You can also take a boat trip to explore this place. The most common itinerary for boat trips in Cabo Frio departs from the Itajuru Canal and heads towards attractions such as Ilha do Japones, Forte São Mateus, Praia do Forte, Praia Brava and Ilha dos Papagaios.
Arraial do Cabo is the perfect destination for those who want a beach, sun and relaxation. The town is small, so the best thing on spending the day is facing the ocean. A rare phenomenon that happens in the region, called resurgence, brings water rich in food to the surface, attracts intense marine life and gives that clear blue and green tone so special to the water. Altogether, there are eight beaches in Arraial do Cabo you can visit. The most famous are Praia do Forno, Praia do Farol and Prainhas do Pontal do Atalaia. These beaches are pure paradise. The most isolated beach in this place is Praia Brava with a steep trail and has no infrastructure, and not for less-adventurous tourists. Prainha and Praia Grande are the opposite. Both are the busiest and offer a bar/restaurant infrastructure for tourists.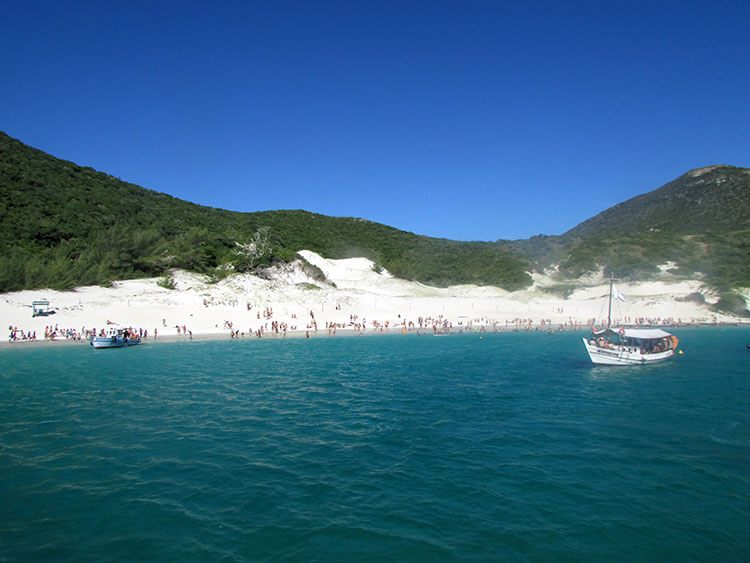 Paraty
248 km (154 miles) from Rio de Janeiro (4 hour drive)
Paraty is a charming coastal town located in the southern tip of Rio de Janeiro. Not only this place is charming, but it's also known for its colonial architecture, boat trips to uninhabited tropical islands and cobblestone-paved streets throughout the historic center district. Its slow pace of life attracts artists, writers, musicians who are drawn to the creative possibilities.
The city is considered a National Historical Monument, it preserves until today its countless natural and architectural charms. It has been able to maintain many of its historic buildings. Much of the architecture of the city has not changed for over 250 years. No cars or trucks are allowed in historic center district, only foot traffic or bicycles. Motor vehicles are only allowed in the historic district on one specific day of the week for deliveries. Horses and carts are a common sight in Paraty and frequently used all around the city.
For Paraty, we recommend a 2 to 3 night stay as it is too far for a day trip.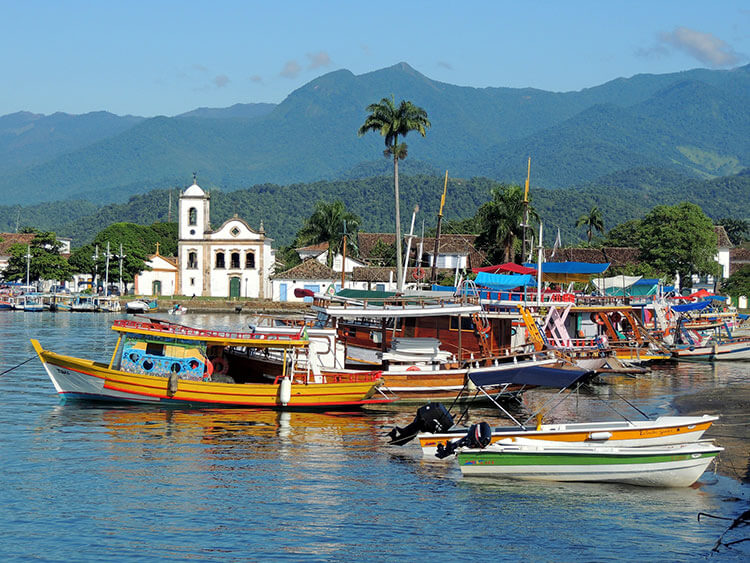 Ilha Grande
156 km (97 miles) from Rio de Janeiro to Angra dos Reis then 1 hr boat ride to Ilha Grande
Meaning 'Big Island',  Ilha Grande is a piece of paradise with untouched white beaches, crystal clear waters, and wild jungle hikes. The island is car free and has a small population of locals, leaving the rest to nature. The island is over two hours south off the coast of Rio de Janeiro state, off the port town of Angra dos Reis, where you can board on a ferry to the island. It's a slice of paradise and ideal for a weekend getaway from Rio hectic city life.
You can catch a glimpse of Ilha on a full day tour from  Rio – "Tropical Islands" or "Angra Tour". You can also  stay a  minimum of two nights to discover and explore the island if you have the extra time.  The island's main area is Villa do Abraao where the pier, hotels, restaurants and bars are located.  Some famous beaches on the island are Praia Lopez Mendez, Lagoa Azul, Praia Aventureiro, Praia Parnaioca .
Some useful information about Ilha Grande:
Take cash! You may need to pay in cash as there is no cash point on the island and not every restaurant, shop or bar accept card yet. Get some cash out of ATM in Rio before you leave for the island. Some places might accept card, but chances are very slim, so don't risk it!
It is a motor-free zone, which is one of the many charms of Ilha Grande. You will do lots of walking in the island.
Take repellent! It's an island and most part of it is jungle. Depending on the season, it would be best to take repellent with you to avoid mosquito or insect bites. Keep in mind that it's not as bad as it sounds, just take precaution!
Take sunscreen! When the sun is out, the island and surroundings look even better. But be careful not to get burned while you're on the beach or on a tour (boat tour).
Take good shoes! Tennis shoes are good. There are plenty of hikes on the island, some with challenging climbs, others simply flat trails leading through the forest.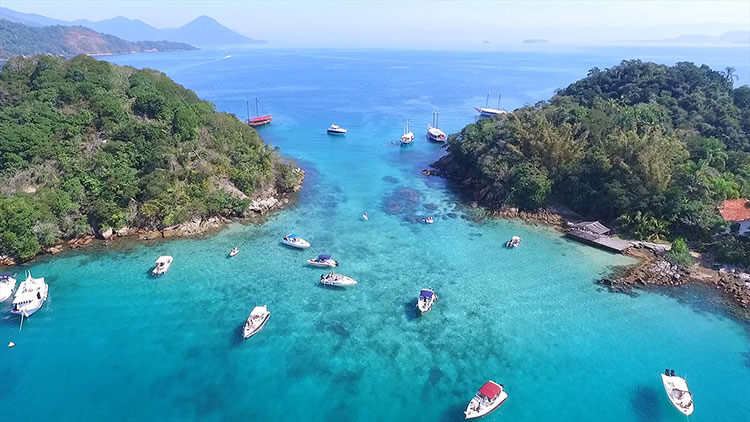 Petropolis
70 km (44 miles) from Rio de Janeiro (1.5 hr drive)
This town is known as 'The Imperial City of Brazil' as it is the former home of Brazil's last emperor, Dom Pedro II, and it plays a significant role in the country's imperial past and traces of the history are evident throughout the city. Petropolis's unique location at the foothills of Serra dos Orgaos National Park provides a much cooler climate, and the city's culture and tourism offer much to explore, centered around its colonial heritage and history. We recommend a Day Tour of Petropolis from Rio vs. staying there as you can pretty much see everything in one day.
Some tourist attractions in Petropolis are:
Museu Imperial (Imperial Museum); was built by emperor Dom Pedro II as a summer retreat for himself and his royal family to take refuge from the tropical sun. The striking interior is a clear reminder of its noble heritage and guests are provided with slippers at the entrance to protect the original wooden floors. It has nearly 7,000 pieces of furniture, clothing, weapons and fantastic crown jewelry from the 18th and 19th centuries.
Palacio Quitandinha (Quitandinha Palace); built between 1941 and 1946, the Quitandinha Palace was once a luxury resort hotel and hosted several politicians and even famous stars such as Bing Crosby, Walt Disney and many more. Today, the palace is a cultural center and a popular tourist attraction. The building is open to the public, allowing visitors to either explore the inside or simply sit in the beautiful surrounding lawns and admire the stunning facade of the building.
Palacio de Cristal (Crystal Palace); is a large building made entirely from glass as a gift to Princess Isabel from her husband. The construction was built and designed in France before arriving in Brazil in parts to be reconstructed in Petropolis. It was in this building that the end of slavery in Brazil was celebrated in 1888, by the leaders that authorized its abolition.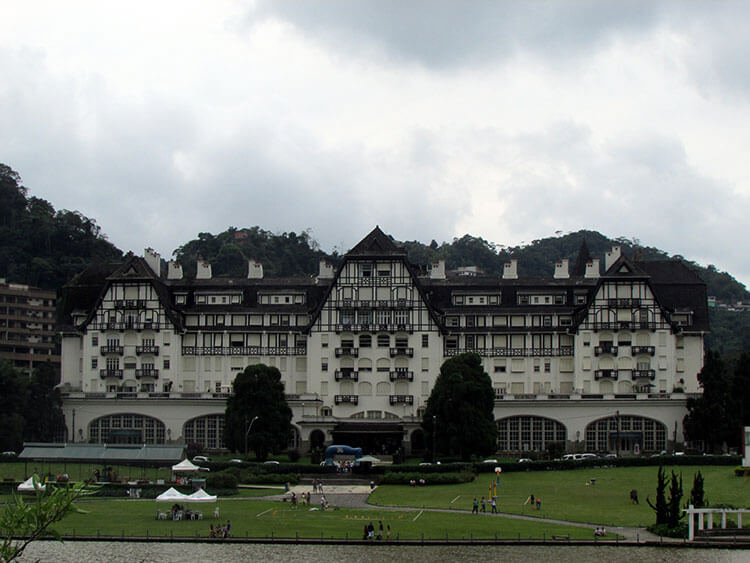 Keep in mind that TGW can organize, personalize and customize vacation packages to your likes and interests. We can include any of these Top Places to Visit Near Rio de Janeiro as day trips or add-ons for your Rio de Janeiro Travel Package.