Rio de Janeiro has a good selection of hotels to choose from at various price points and star levels.  Below is a list of some best hotels in Rio de Janeiro recommended by our company. Each hotel featured below has been personally visited and inspected by TGW for quality.  We selected the best hotels from different categories 3-star (budget), 4-star (superior) and 5-star (luxury) that provide excellent service and are in South Zone (Zona Sul), with easy access to the beaches and most main tourist attractions.  We recommend the South Zone of Rio as it is the most convenient and provides the best security and infrastructure for international tourists.
Luxury Hotels (5 Stars)
Copacabana Palace
Located right in the heart of Copacabana Beach, the Belmond Copacabana Palace, is arguably the most famous hotel in all of Brazil.  Opened in 1923, the property is legendary and synonymous with luxury and its extensive list of famous guests.  It has been home to celebrities like Elton John, Brigitte Bardot, Princess Diana, Paul McCartney, Freddie Mercury, The Rolling Stones, and many more. The white Art Deco palace was modeled after French Rivera coastal resorts and exudes old-world glamour. The hotel's Restaurant Mee was one of the first in South America to earn a Michelin star.  Each room is unique, featuring fine period furniture and original works of art. For those wanting an elegant and classic hotel, the Copacabana Palace is the best option for Rio. Check Out the Belmond Copacabana Palace.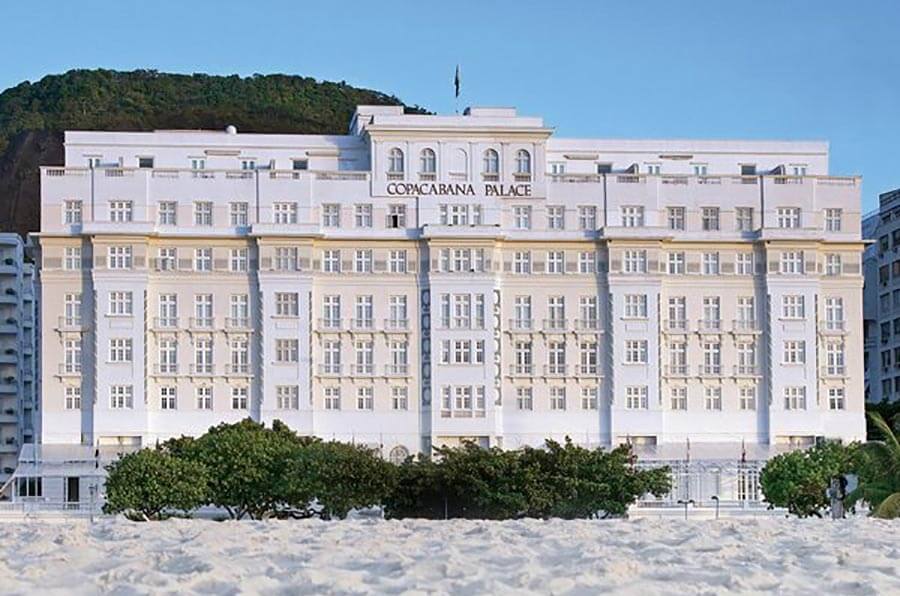 Miramar Hotel by Windsor
The Miramar by Windsor is a 5-star hotel located at the end of Copacabana beach. Its perfect location is within a short walk to Ipanema beach and Arpoador. The hotel was recently renovated and offers captivating views from some guestrooms and an amazing rooftop terrace that hosts an infinity-edge swimming pool and poolside bar. Accommodations at Miramar Hotel promote relaxation with sophisticated decor, Brazilian paintings, and elegantly designed guest bathrooms. Guests can have a drink at the rooftop bar or enjoy the hotel's restaurant. Many shops, grocery stores, restaurants, bars, and nightclubs are close to Miramar Hotel. Check Out the Miramar by Windsor Hotel.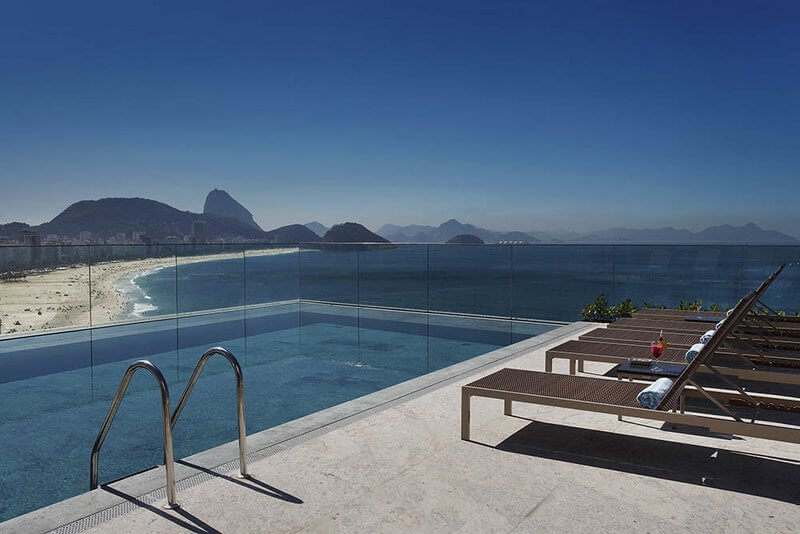 Fairmont Rio de Janeiro Copacabana
Fairmont Rio de Janeiro Copacabana Hotel is located in Copacabana Beach within walking distance to Arpoador and Ipanema. This modern and sophisticated hotel was very recently renovated and featured 375 rooms with Chevron floorboards, boldly patterned carpets, and midcentury-mod furniture channeling 1950s Rio.  There are 10 rooms categories with a balcony, and the Gold Rooms offer a private lounge and exclusive services.  Steps from Ipanema beach, in Copacabana district you can find antique fairs and outdoor leisure options such as stand-up paddle and surfing. On Sundays, General Osório square hosts the Hippie Fair, where you can find typical Brazilian products and souvenirs. Check out the Fairmont Rio de Janeiro Copacabana.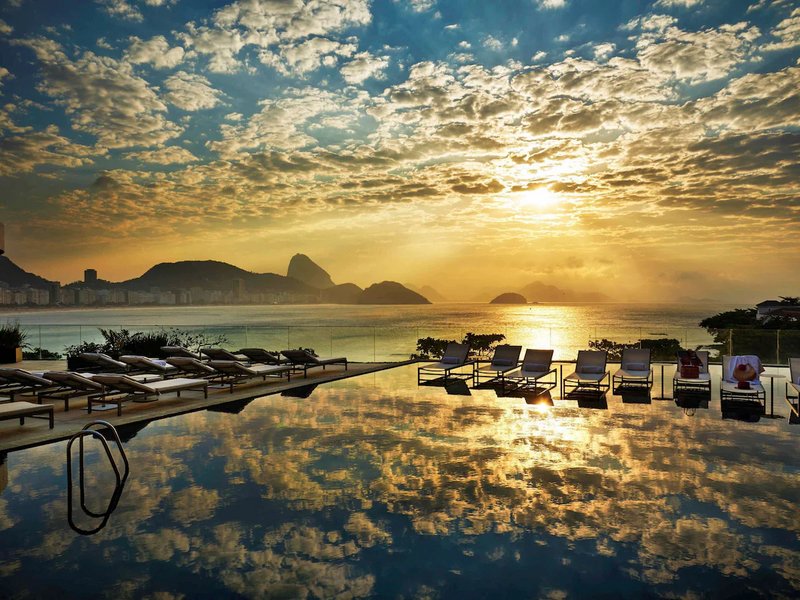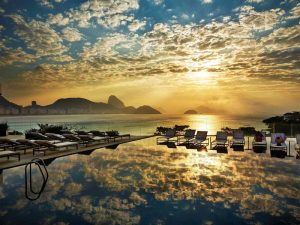 Hotel Fasano Rio de Janeiro
The Fasano Rio de Janeiro Hotel is the first building in Brazil designed by Philippe Starck, making it the most fascinating destination at Ipanema's beachfront. He designed a retro-chic paradise, with fifties and sixties furniture, and spacious airy bedrooms, many with two double beds placed to maximize ocean views. Rio Fasano has hosted some of world celebrities like Madonna, David Beckham, Justin Bieber, to name a few. Its architecture and interior design pay homage to the spirit of Brazilian design of the 1950's and 1960's, and the glorious Bossa Nova era. Among the attractions are the infinity pool that leans over the beach, surrounded by Arpoador beach, Morro Dois Irmãos (Two Brothers Mountain) and Corcovado. Check Out the Hotel Fasano Rio.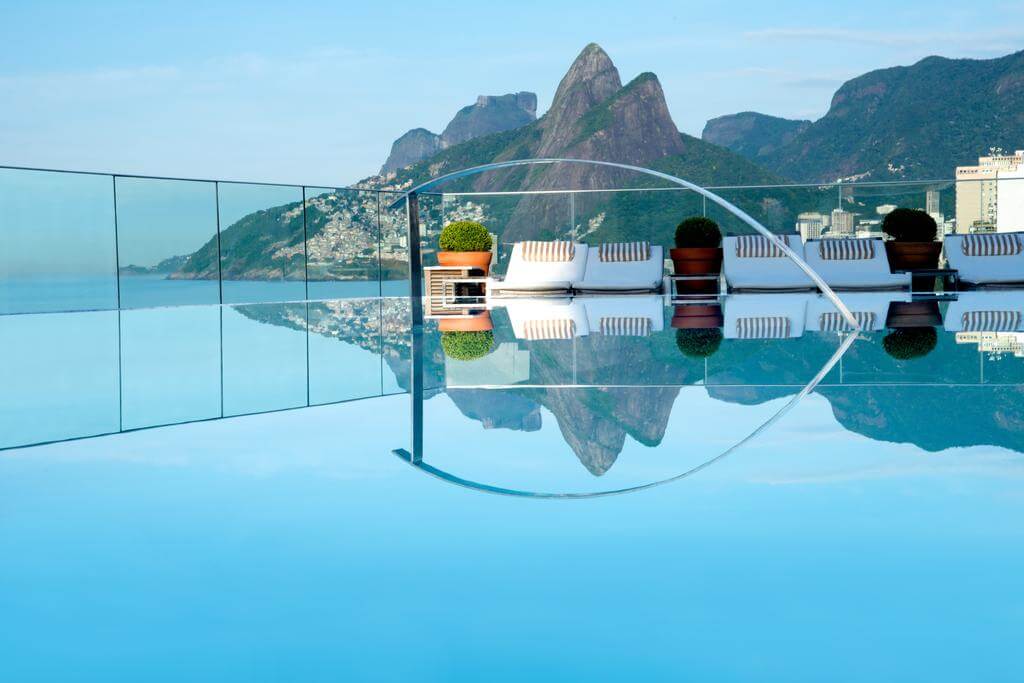 Superior Hotels (4-stars)
Windsor California Hotel
Windsor California Hotel offers 157 guest rooms with a cozy atmosphere and sophisticated décor in the heart of Copacabana across the street from the world-famous boardwalk. The hotel features a rooftop pool with amazing views of Copacabana beach and a great breakfast popular with our guests. The hotel offers comfortable accommodations with contemporary furniture and rooms with either internal views or ocean view rooms for an extra fee.  Shopping malls, upmarket boutiques, cafés, restaurants, theaters, and nightclubs are all within walking distance.  The Windsor California has a very relaxed vibe and a solid choice for travelers that want an upmarket 4-star hotel that is well located with good service and still cozy.  Check Out the Windsor California Hotel.
Windsor Leme Hotel
The Windsor Leme Hotel is a comfortable 4-star hotel located in Leme – (at the beginning of Copacabana beach) in a very peaceful neighborhood. The hotel is located across the street from the boardwalk and the beach, and it features 225 air-conditioned rooms. They are elegantly styled with wood furniture and contemporary décor. On the rooftop, surrounded by glass walls, hotels guests find the beautiful infinity pool, a bar with drinks and snacks menu, a sauna, and a full gym. Every morning a full buffet breakfast is served, which offers a variety of fresh fruits, breads, and sweets. Guests can also enjoy a selection of local and international specialties from the in-house restaurant and bar. Check Out the Windsor Leme Hotel.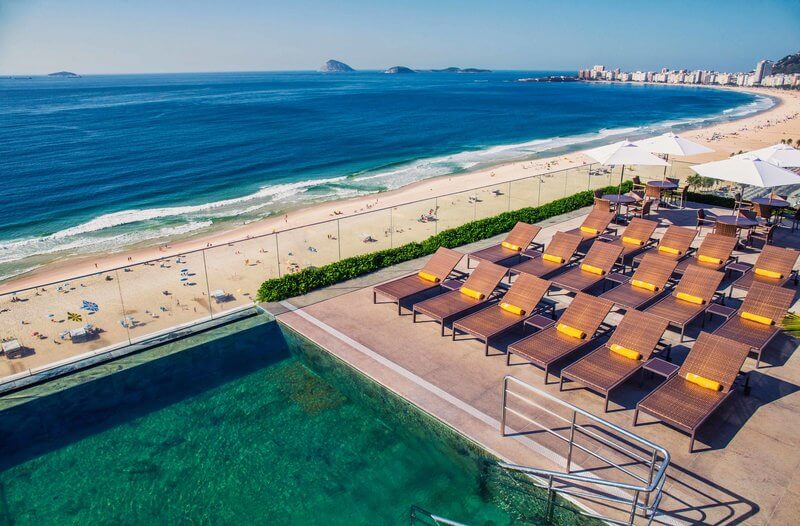 Arena Leme Hotel
The Arena Leme Hotel offers contemporary beachfront accommodation in one of Rio de Janeiro's quietest and most relaxing neighborhoods. It is located right in front of Leme beach (at the beginning of Copacabana). Along with a restaurant, this smoke-free hotel has an outdoor pool and a fitness center. Free buffet breakfast and free Wi-Fi in public areas are also provided. Additionally, a bar/lounge, a poolside bar, and a coffee shop are on site. The rooms are fitted with a flat-screen TV, cable channels, air conditioning and a telephone. Every room is equipped with a private bathroom with a hairdryer. There is a 24-hour front desk at the property. Guests can exercise in the fitness center or enjoy refreshing drinks at the bar. Check Out the Arena Leme Hotel.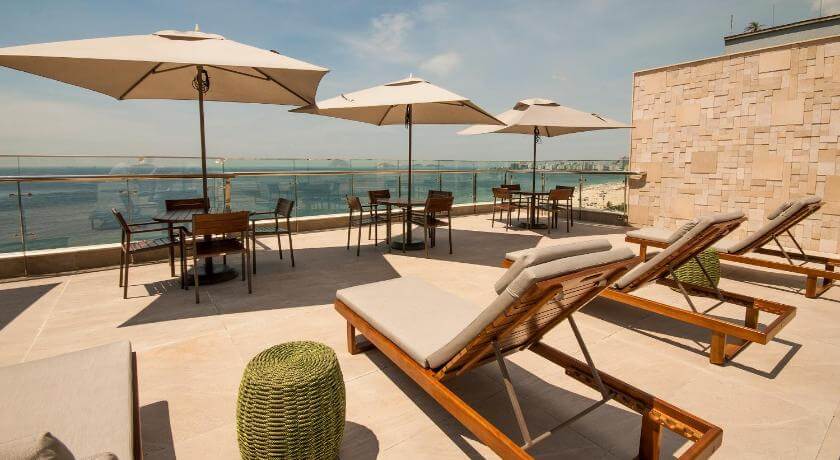 Budget Hotels (3-Stars)
Windsor Martinique Hotel
The Windsor Martinique Hotel is a comfortable 3-star hotel located one short block back (only 450 feet) from the famous boardwalk of Copacabana beach in Rio de Janeiro's "Posto 5" (numbered lifeguard post). This is one of Rio's best locations in Copacabana as it is at the end of Copacabana beach very close to the Copacabana Fort and about a ten-minute walk to iconic and famous Ipanema beach and Arpoador. The street behind the hotel has many restaurants, banks, supermarkets, and shops for your convenience. There is also a money exchange shop directly next to the hotel. There are 116 rooms divided into Standard and Superior categories at the Windsor Martinique Hotel. Standard rooms are small and offer views of neighboring buildings, whereas the Superior rooms provide more space and better views of the tree-lined side street, Sa Ferreira. The Windsor Martinique is a solid choice for a traveler on a budget that wants a good location and to be close to all major sites in Rio de Janeiro. Check Out the Windsor Martinique Hotel.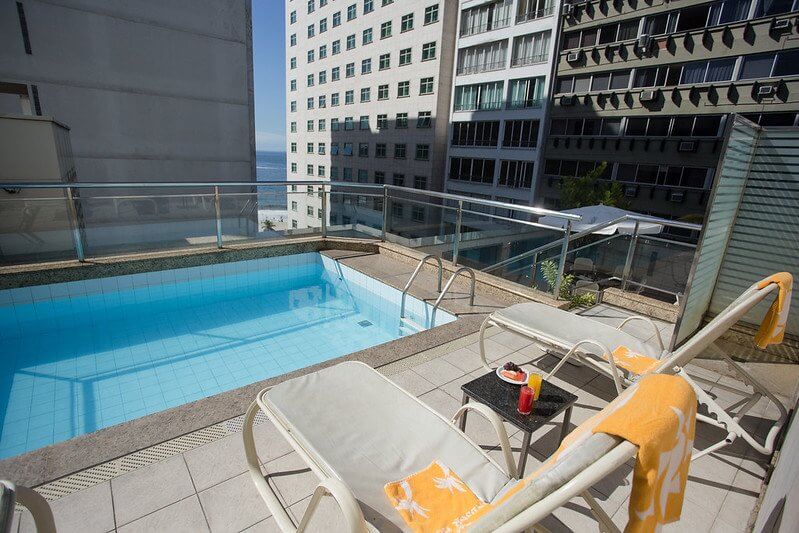 Windsor Palace Hotel
Located only one short block back from Copacabana Beach, the Windsor Palace features a rooftop terrace with a pool and beautiful ocean views from some of its rooms   The property is 18 stories and has 84 guest rooms.  It is a cozy and well located 3-star hotel located in a perfect location in central Copacabana. Supermarkets, restaurants, bars, shops, the subway, Copacabana Beach, and banks are all located within a few minutes walk from the hotel. The air-conditioned rooms at the Windsor Palace Hotel provide a balcony, a modern bathroom, and cable TV. Amenities also include a minibar, telephone, and radio. Some rooms include partial sea views.  This hotel is a good value and a great choice for guests who are looking for a great location and clean and comfortable stay. Check Out the Windsor Palace Hotel.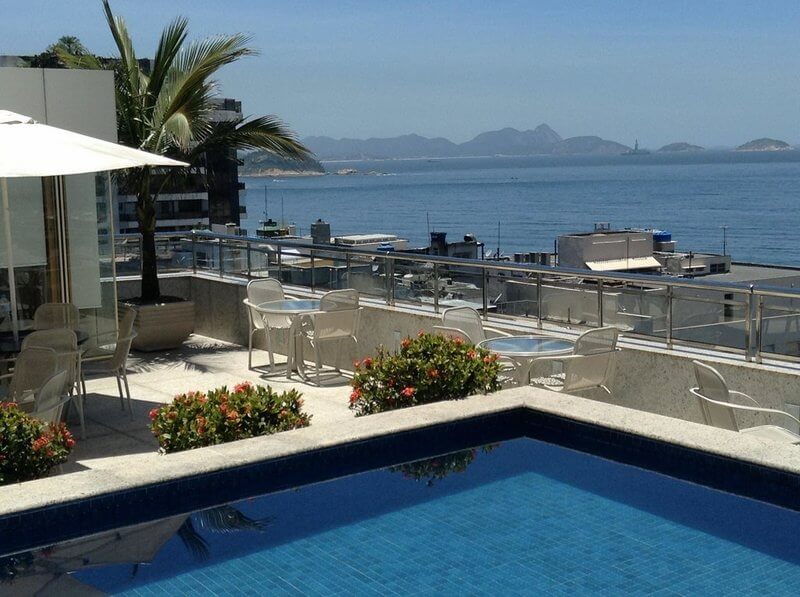 The options above are considered our picks for the Best Hotels in Rio de Janeiro. If you are interested in another property, please ask your rep for pricing and details. We have a large selection of  Rio de Janeiro Hotels that we work with.