Rio de Janeiro is an enormous metropolis and one of the most beautiful cities in the world. Surrounded by abundant nature, breathtaking landscapes and incredible beaches it has much to offer any traveler. Rio  boasts the iconic Christ the Redeemer statue (Cristo Redentor), as well as the cable car that takes travelers to Sugarloaf Mountain (Pao de Acucar)  offering the most spectacular view of the city.  There are so much to see and explore in Rio. The big question is where to stay in Rio de Janeiro?
Location, location, location!  Our quick answer on where to stay in Rio de Janeiro (for many good reasons) is Zona Sul (the South Zone).   This is primarily based on the fact that this area, particularly the Copacabana, Ipanema & Leblon neighborhoods have the most number of hotels and offer the best infrastructure for tourists visiting the city.  The south zone is where the world-famous sandy beaches of Copacabana, Ipanema and Leblon and most main hotels are located as well as many restaurants and shops.  Copacabana beach is well known to the  not only for its breathtaking beach, but it is also  famous for its New Year's Eve party where millions of people (both locals and tourists) attend to watch one of the best fireworks in the world.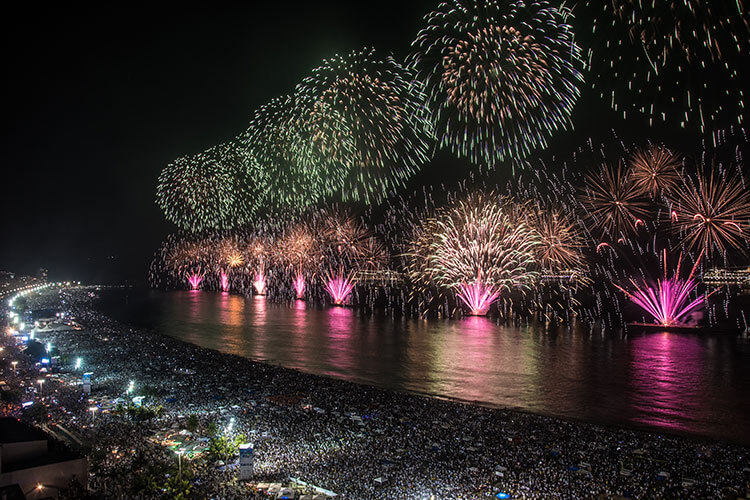 Where to Stay in Rio de Janeiro? – The South Zone
Transportation/Convenience: If you stay in Copacabana or Ipanema, you do NOT need to rent a car. Local taxis and Ubers as well as the subway are within a short distance and cheap & efficient. Many sites are also within walking distance.
Proximity to the best sites in Rio: Christ the Redeemer (Cristo Redentor), Sugarloaf Mountain (Pao de Acucar), Jardim Botanico (Botanical Garden), Parque Lage (Lage Park), Forte de Copacabana (Copacabana Fort), Escadaria Celaron (Colorful Steps); Igreja Catedral (The Cathedral), Arcos da Lapa (Arch of Lapa); Bondinho da Santa Teresa (Tram/Trolley to Santa Teresa), are all a short taxi or Uber ride away.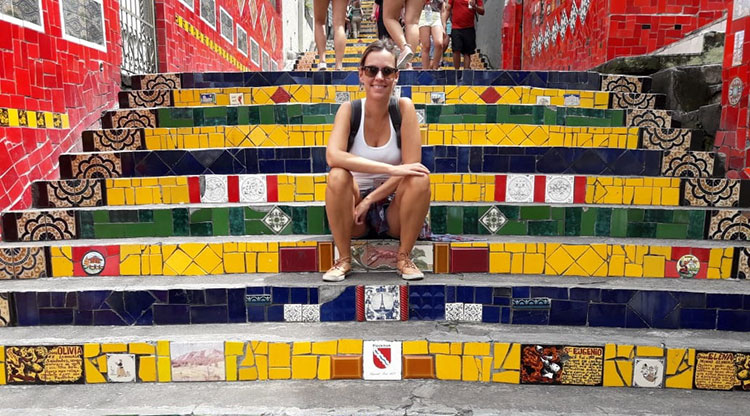 Shopping:. Some of the best malls in Rio are Shoptting Rio Sul, Shopping Leblon and many boutiques are located in Ipanema. Additionally, Ipanema offers a "hippy market" on  most weekends and there is a night street market at Copacabana (near Posto 5).
Hotels: The best and highest concentration of hotels are located in Copacabana and Ipanema.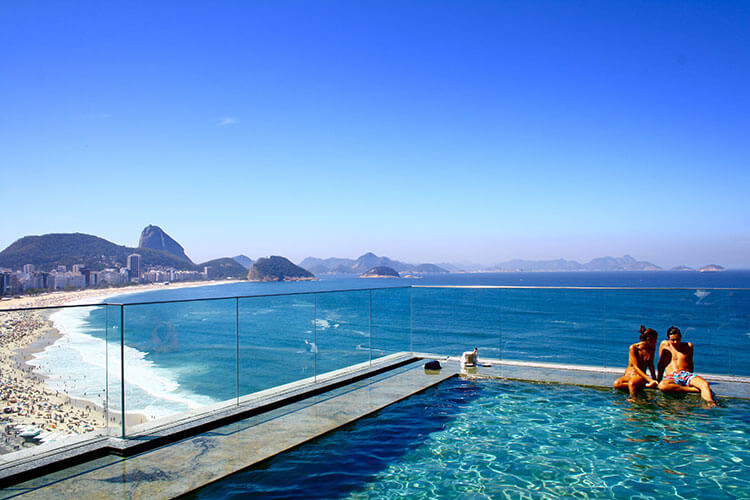 Beaches & Recreation: Simply put, some of the best beaches in Rio are in the South Zone – Copacabana, Leme, Ipanema & Leblon.  There are also ample recreational opportunities such as swimming, running along the beach boardwalks, people watching, cycling, volleyball, beach soccer and stand up paddle.   Relax and get a tan on famous beaches while sipping Caipirinha or coconut water on the sand or along the boardwalk on the beach kiosks. Along the beach, anything you might need is on sale from the vendors who call out to get people attention, from food, drinks to bikinis.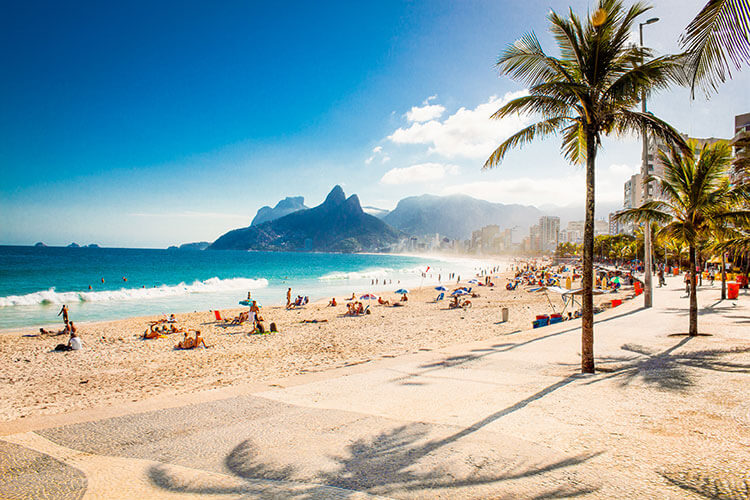 Restaurants: Some of Rio's best are located here. Download our Rio Best Restaurants Guide.
Nightlife: Some of Rio's best  nightlife venues are located in Lagoa, Jardim Botanico, Copacabana or Ipanema.  There is a wide variety of local Rio nightlife from large clubs playing house music to venues playing live local music such as samba, sertanejo, bossa nova, pagode, etc.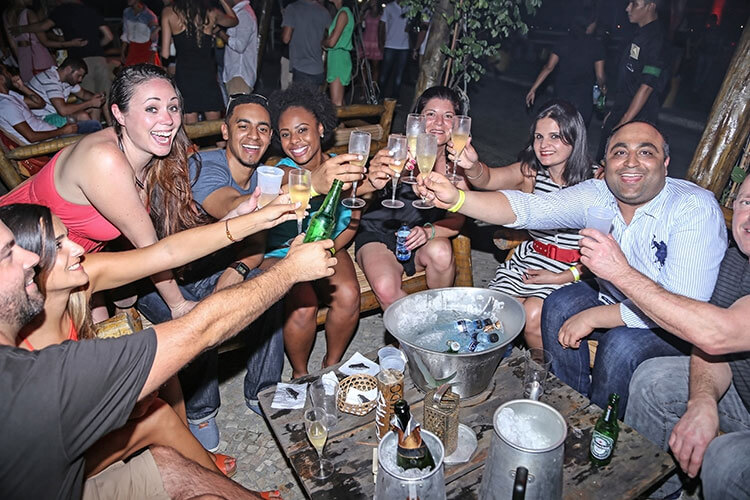 Obviously, there are other parts or neighborhoods in Rio that you can stay other than Ipanema/Copacabana.  Some other  popular neighborhoods are Botafogo, Santa Teresa, Lapa, and Barra da Tijuca.  Below is an overview of each:
Botafogo – This neighborhood is not far from Copacabana, Ipanema and Leblon. It is also full of hip bars, restaurants, and is in a central location with easy access to several sights in the city, bustling nightlife and the neighborhood is also considered safe. The only downside of Botafogo is that it is not on the beach front. So, you would need a transportation to go to the beach. Plus, it is not as nice as Copacabana area.
Santa Teresa – A charming village-like neighborhood with historical buildings colonial style, winding streets, and artistic touch. This is more of a residential neighborhood; therefore, it is a perfect place for small boutique hotels. Some disadvantage of Santa Teresa are security and access. It sits on a hilltop so there is no access to the beach, and also walking around is not recommended in this neighborhood, for safety reasons.
Lapa is the most bohemian neighborhood in the city, and it comes to life at night. It is located in the Center of the city and is very historic with its famous Arches and iconic old buildings.  There are many live music Brazilian samba bars, restaurants, and nightclubs on two main streets of Lapa so you can choose the rhythm you want to listen and dance to. The downsides of staying in Lapa  are that Lapa is not  beach front, and can be a bit sketchy and is not one of Rio's safest neighborhoods.
Barra da Tijuca. Barra da Tijuca is one of Rio's newest residential neighborhoods. It boasts many shopping malls,  huge beaches and some hotels. Many of Rio's newest hotels were built up in this area as it is close to the area where the 2016 Summer Games were held. Barra has great hotels and they are reasonably priced, but it is popular more with business travelers or Brazilians who are travelling to Rio that have already been there before or want to be in a quiet neighborhood away from the city. Barra, although nice, is a solid 30 minutes to one hour ride to the main sites in Rio (depending on traffic) For this reason, we do not recommend staying there if you are a first time visitor to Rio or would like to be close to the main sites and attractions.