Rio de Janeiro with its warm tropical weather and amazing nightlife and lush vegetation and scenery is a perfect year-round destination. Being a tropical city, it never gets very cold. The best time to visit Rio is in their summer months from November through February if you are looking for hot summer weather and lots of nightlife.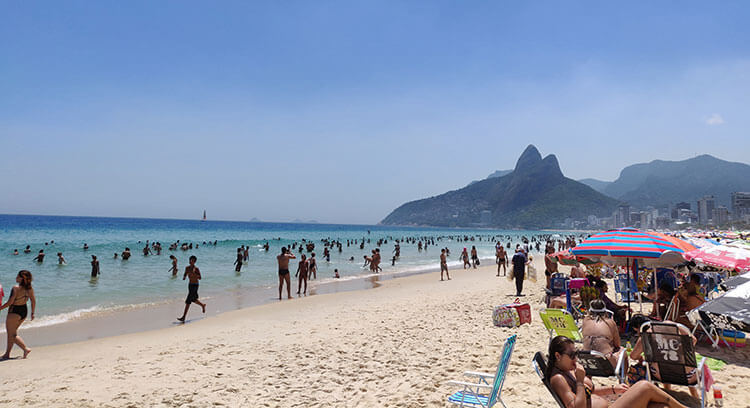 At this time of year, the days are the longest – perfect for enjoying the beaches into the early evening and long summer days enjoying the world-famous beaches of Copacabana and Ipanema. The year's biggest and most famous main events – New Year's Eve (Reveillon) and Carnival are also held during this time of the year. Learn more about these events
The hottest months are December and January. Temperatures are usually in the 80's and 90's during the day and 70's to 80's in the evening. Some days, however, temperatures can get well over 100ºF and humidity is typically high during these months.
These months are also the rainy season, but precipitation usually does not last long.  Summer in Rio is very busy "peak season" and attracts big crowds from around the world and Brazilians from other parts of Brazil flock to Rio at this time of the year as well.
What About Other Seasons?
It's hard to pick the best time to visit Rio de Janeiro as anytime is great to visit this incredible city. Besides Rio's summer, here is a description of its other seasons.
March, April, and May:  March is still a hot month with a little rain, but typically not as hot or as humid as the previous months and with less rain. Weather wise, March is one of the best months to visit Rio. April and May are also good months for visitors. Days are a little cooler, on average, but still great for beach life and to explore the city.  These months have warm weather usually in the 80's during the day and low 70's or sometimes high 60's at nighttime the later in the season. The beaches are not as crowded, and it is definitely a great time to visit if you do not want the crazy crowds of their summer months. This is also a great "shoulder" season for good deals as it is cheaper than the "peak" summer months.
June, July and August are considered winter months in Rio and the temperature may drop to 70 degrees Fahrenheit on average during the day and in the 60's F at night so definitely bring a light sweater or sweatshirt for nighttime. These months may sometimes have an occasional cold front come in with cooler weather for a couple of days but typically it is still very pleasant to visit.  This season is also the season with the least rainfall. For those who do not like hot weather and humidity and are not looking for a scorching hot beach vacation, it may be a good time to go as activities such as sightseeing and hiking are ideal at this time of the year. Winter in Rio is still busy due to school vacations in Brazil and in Europe and North America but not as crowded as the busy summer months of December through February.
September, October, and November: This is springtime in Brazil and a great time to visit with almost ideally perfect weather. The weather climbs up again usually into the 80's F during the day and pleasant in the low 70's or mid to high 60's at night. These months typically are dry and hotel prices are reasonable as it is "shoulder" season. There are many national holidays during this time such as Brazilian Independence Day in early September, Rock in Rio (which is held often in late September) and many long weekends for Brazilians in November full of great nightlife options.
Best Time to Visit Rio: Summer Events
Rio de Janeiro Carnival
The best, biggest and most famous party and show in the world is Carnival. The main event is a competition where the performers pour their hearts out to spectators. There are no fixed dates for Carnival as it is determined by the dates of Easter, which is 46 days before the Easter festival. Usually between the last week of February to first week of March (See All Rio Carnival Dates). The Carnival goes for 5 days, from Friday night to Wednesday, officially. This five-day festival leading up to Fat Tuesday brings thousands of visitors and locals to the streets for parades, parties, and balls. The Sambadrome consists of 700 meters (2,300 ft) stretch of Marquês de Sapucaí street converted into a permanent parade ground with bleachers (grandstands) built on either side for spectators. Its capacity is for 90,000 spectators. During Carnival accommodations and services prices are at their highest. Check Rio Carnival Package FAQs for more info!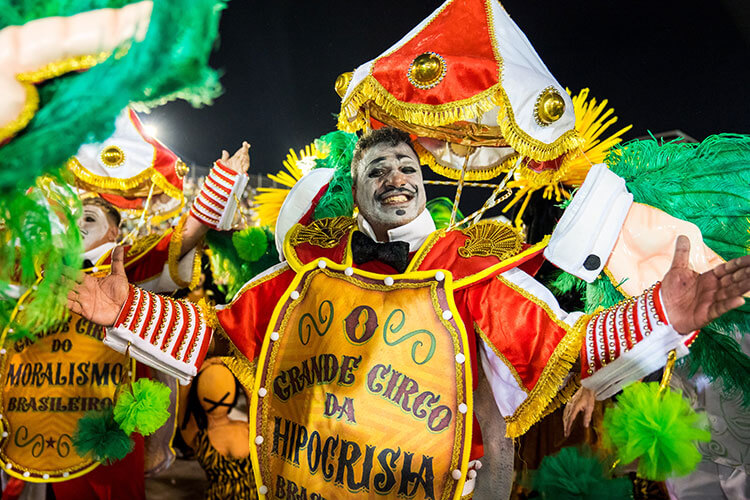 New Year's Eve (Reveillon)
There is only one place you should go for New Year's Eve (Reveillon) in Rio de Janeiro, and that is the same place where over 2 million people (if not more) go, Copacabana beach. On this legendary beach, people are celebrating New Year's Eve with live music, good spirits and one of the best fireworks show in the world. All dressed in white as it is part of the local tradition. People start to arrive on Copacabana beach early in the day, to set up their stay for the rest of the day and night. Fireworks begin right at midnight, which are set off from the boats and barges that are anchored hundreds of meters away in front of the beach. They last for over 15 minutes. Champagne is the drink of choice for this unforgettable moment. TGW will bring bottles along to the beach for our clients, pop them open for a big toast at midnight. This event is something that all Cariocas (Rio's residents) have experienced, and celebrate with their entire families, so you can expect to see all ages of people and walks of life.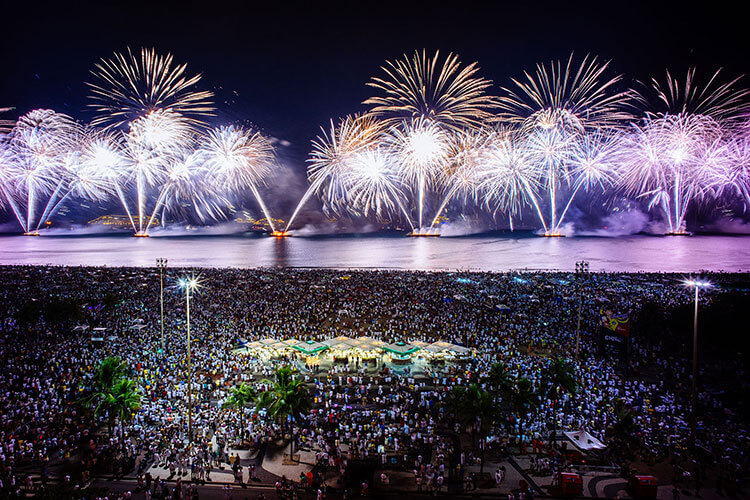 To summarize, Rio is an awesome place to visit all throughout the year – it just depends on what you are looking for.  The best time to visit Rio is from November to February if you are looking for hot long tropical beach days but the rest of the year is also very enjoyable with nearly perfect weather all year round. Planning a trip to Rio? Check out our Rio de Janeiro Package.  We can custom tailor an incredible trip to Rio for any dates of the year.