One of the Top Reasons to Travel is trying delicious food from all over the world and Brazil is no different. When traveling to this amazing country, we recommend trying these Traditional Brazilian Foods.
Top 10 Must Try Traditional Brazilian Foods
We included all types of foods whether you are looking for a snack, a big meal or delicious dessert!
1. Feijoada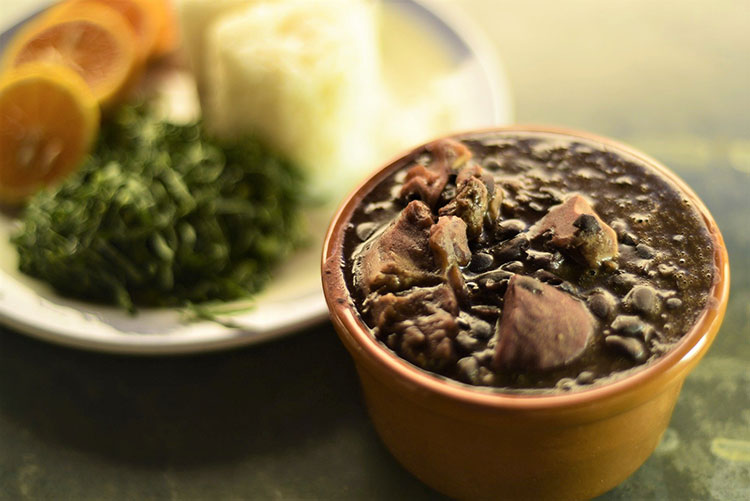 This is probably considered Brazil's National Dish. It is a black been stew with variety of pork meat, such as pork ribs and sausages, jerk beef, bacon, & pork trimmings. It is usually served in a bowl with some sides, such as Farofa (made of cassava flour), rice, collard greens, fried banana and a slice of orange for flavor. The dish is extremely hearty so we recomend it for lunch.
It is also a tradition for some Brazilian parties or special events to include this dish. If you are traveling with us during Rio Carnival or New Year's, we may take you to a party that includes this meal.
2. Açai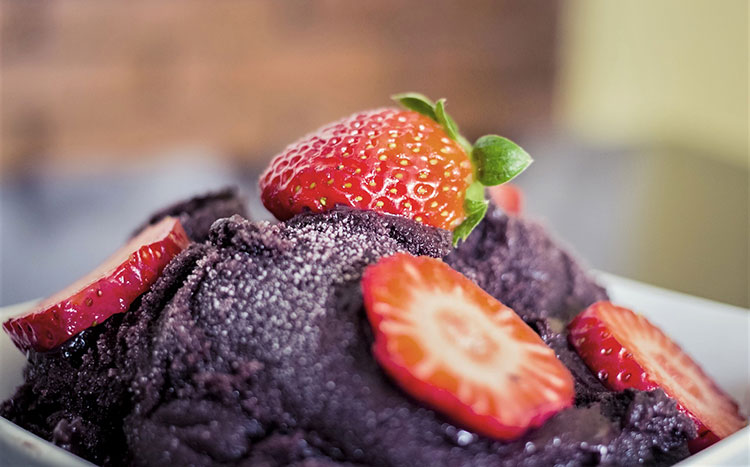 The açaí berry is a native fruit from the Amazon forest and this super food is traditional in Brazil. These berries have been a staple food for centuries by local Brazilian inhabitants. It is never eaten straight from the tree but in the form of a pulp. The most traditional way to eat it is as a smoothie with the frozen pulp. You can eat it plain or add fruit (bananas & stawberries), condensed milk, honey, granola, peanuts, etc. It is a refreshing snack for those hot days in Brazil!
3. Churrasco

Brazilian churrasco uses great cuts of meat grilled rotisserie style. The cuts of fine meat served are alcatra, filet mignon, fraldinha, cupim and the famous picanha. Picanha is the most prized cut of beef in Brazil, it's also known as the sirloin cap. Other meats used for Brazilian churrasco are chickens (wings, thigh and heart) and pork sausage.
In the U.S, a churrascaria is commonly known as a Brazilian steakhouse, and the service style is called "Rodizio", where servers pass each table to offer and slice the meats freshly off of the forks. If you travel with us to Brazil, ask your rep for recommended steakhouses in your destination.
4. Pao de Queijo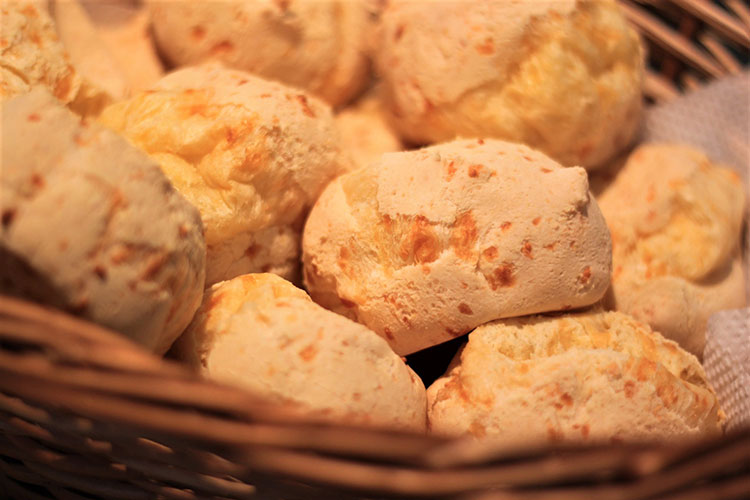 Simply put this is a Brazilian cheese bread and originated from the state of Minas Gerais. Crispy on the outside and soft and chewy on the inside filled with delicious cheesy flavor. The gluten-free bread rolls are made with tapioca flour, eggs and grated Minas cheese, rolled into small balls. Look out for these at your hotel breakfast!
5. Moqueca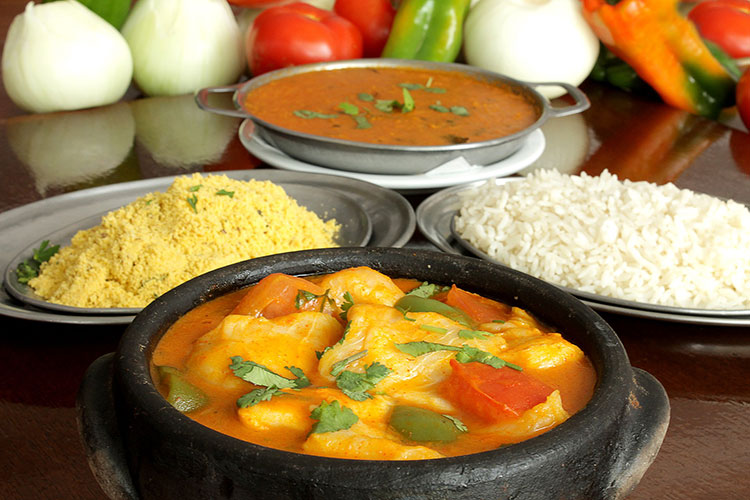 This delicious slow cooked stew made of cuts of fish or other seafood, a well-seasoned sauce, coconut milk, onions, peppers, cilantro and palm oils. It may look like a soup, but it's mostly seafood with a very delicious thick sauce. This is the original and typical dish from Bahia, a state in north-east of Brazil, so if you book a Salvador Travel Package with us, ask your TGW Rep on the best place to have this dish.
6. Coxinha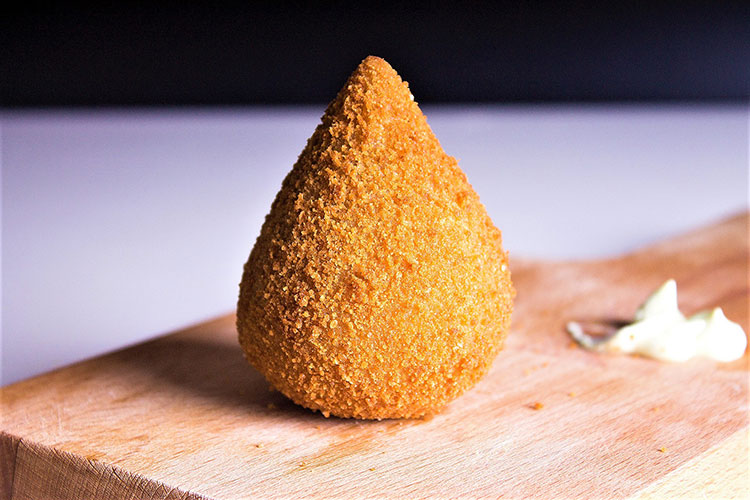 The Coxinha is one of the most popular snacks in Brazil. You can find them in any bakery. It is a fried dough shaped like a chicken leg (or giant tear) and stuffed with shredded chicken (though it can have many filling variations, from jerked beef to crab meat). With its crispy outside texture and soft and fluffy inside, it is hard to resist!
7. Acaraje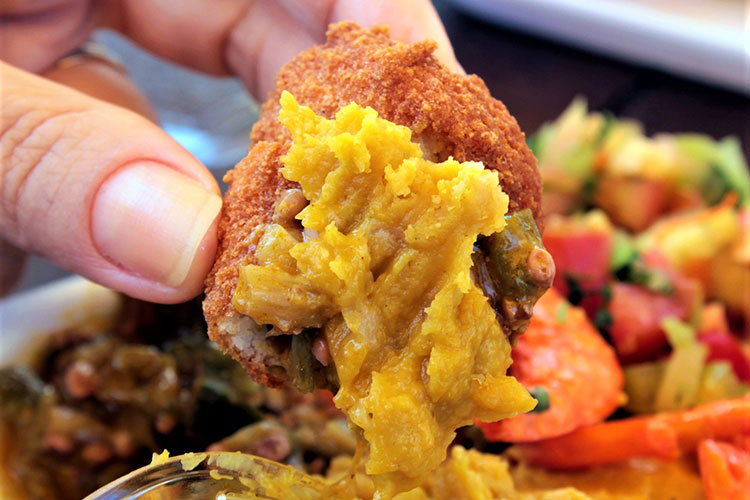 Originating in the state of Bahia, Acarajé is a deep-fried patty of crushed black-eyed peas, palm oil and puréed onions that is deep-fried in palm oil before being sliced open and stuffed with dried shrimp and vatapá. We highly recommend eating it fresh and add a little bit of hot sauce to it!
8. Tapioca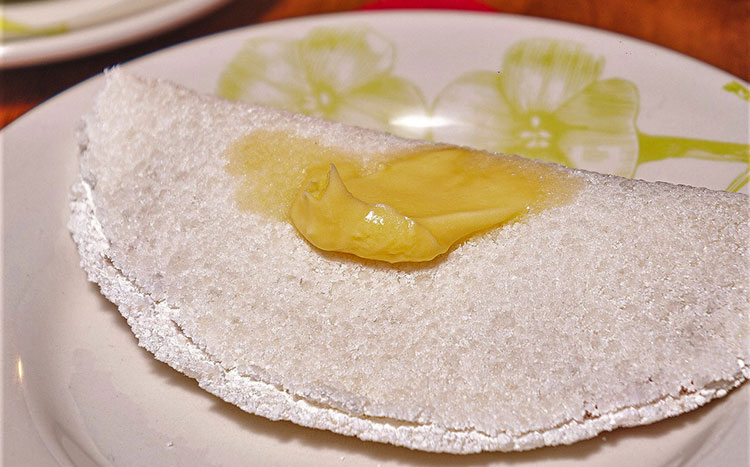 Tapioca is a common Brazilian snack made from manioc or cassava starch. It's a very common street food in north of Brazil but recently became popular in many other coastal cities. Cassava flour is naturally gluten free and high in carbohydrates, making it a light and fantastic source of energy. It is commonly eaten as a snack or for breakfast.
It can be eaten as a salty or sweet treat. The most popular salty fillings are ham, meat, chicken, tomatoes & cheese. You can also have it sweet with sweet with nutela, chocolate, strawberries, bananas or nuts.
9. Pastel
A pastel is very similar to an empanada. It is a deep-fried thin crust pie with assorted fillings. Typical fillings include chicken with cream and cheese, ground meat, cheese or prawns. Pastel comes in 2 shapes, as large rectangular pastries at street markets (Feira in Portuguese) or as half-moon shaped pastries in bars. It goes well with Caldo de Cana (Sugarcane pure juice) as well as an ice cold draft beer (Choppe). 
10. Brigadeiro
Brigadeiro is better version of chocolate truffles made with condensed milk and covered in chocolate sprinkles in small balls. It served as a dessert. The traditional brigadeiro is dark chocolate but there are also white chocolate versions with different toppings.
If you book a Brazil Vacation Package with us, ask your TGW Rep on the best places to try these Traditional Brazilian Foods.